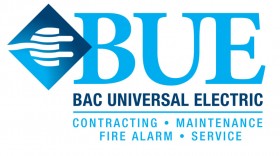 The BAC Group of Companies [BAC] and Universal Electric Limited [UEL] said they have completed  a transaction for BAC to acquire the assets of UEL effective as of Friday, January 23rd, 2015.
The company said, "The agreement is a friendly cash and stock transaction which will see the assets incorporated into a new operating entity: BAC Universal Electric Ltd. [BUE]."
Patrick Jones, President of UEL, will serve as Vice President and Director of BUE. Mr. Jones said, "Universal Electric Limited has been the electrical industry leader for 50 years. We have always had a great working relationship with BAC, which remains the undisputed leader in its field.
"The combination of the two leading speciality firms creates an exciting pool of resources and opportunities for our businesses, customers, shareholders and employees."
"This acquisition creates a company that, combined with our HVAC/plumbing/fire protection, [BIL] insulation, [EMS] energy management, and [BAE] alternative energy companies, allows us the most innovative delivery of construction, products and services and a superior experience and value for our customers" said Chris Schuler, Managing Director for BAC Group of Companies.
"We are in the process of updating our clients regarding this exciting development and look forward to welcoming new customers to our family".

Read More About