A 1938 travel brochure that urges vacationers to make their way to the island promises cruises that are the "smart thrifty way to Bermuda," with round trip tickets starting at only $50.
The brochure, which details passage aboard the Eastern Steamship Lines' Acadia, offers regular round-trip fare of $50, a 'Live Ashore in Bermuda Plan' for $58, a six day cruise for $60, a seven day cruise for $67.50, and an eight day cruise for $75, with "living aboard ship in Bermuda" covered in the respective prices.
The Acadia began its life as a civilian passenger and cargo ocean liner after being built by Newport News Shipbuilding in 1932, sailing under the Eastern Steamship Lines banner as it serviced routes between New York and Yarmouth, Nova Scotia, as well as passages from New York to Halifax and Saint John.
In 1938, the vessel began sailing on a route from New York to Bermuda or Nassau, before being chartered to the United States Maritime Commission, from which it was operated by other shipping lines as Commission agents.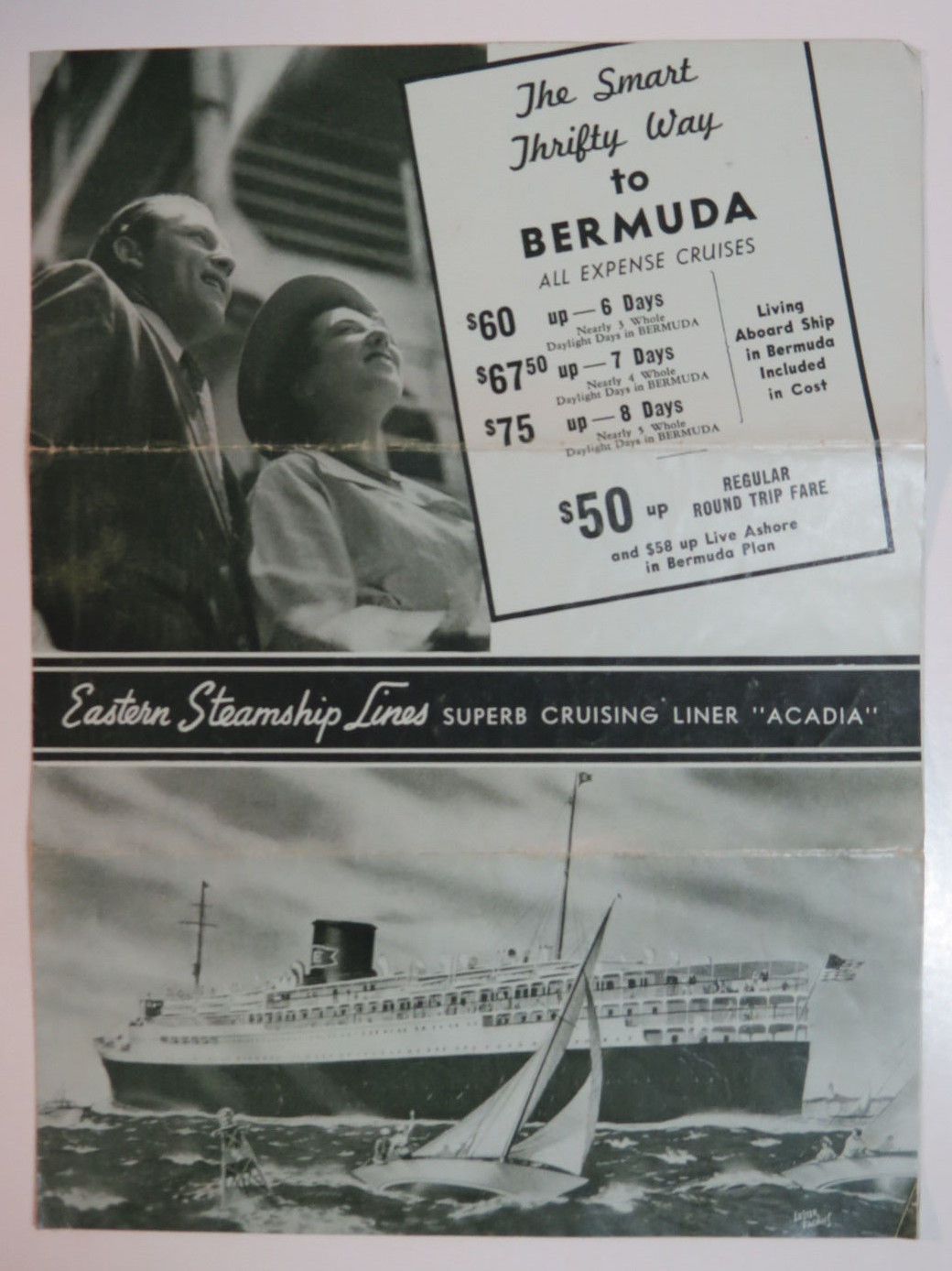 That same year, in an effort to counteract the loss of economic stimulus when so-called "ship-hotels" visited the island, Bermuda passed legislation banning the use of cruise ships as hotels.
A story in the August 21, 1938 edition of the Chicago Tribune said, "American shipping interests have construed the legislation, passed last Monday, as being aimed at the Easten Steamship Line, operator of the Acadia in the Bermuda service, although the Bermuda trade developments board and other island interests have denied this intent.
"Officials of the line said that the Acadia would continue on her cruises, spending three days each voyage at anchor in St. George's harbour."
After three years of Maritime Commission service, the Acadia was assigned in 1942 to the Army Transport Service of the War Department.
After being decommissioned in 1946, eventual litigation between Eastern Steamship Lines and the Maritime Administration over repairs to the Acadia lead to a long period of lack of service, before the vessel was scrapped in 1955.
Read More About