According to the Potential Economic Impact [PEI] assessment released by the ACBDA, the direct spending on-island for the America's Cup is estimated to be "in the region of approximately $250 million."
The ACBDA said, "The document was prepared in October 2014 by the Bermuda America's Cup Bid Committee and summarises the review of economic impacts to host venues of previous America's Cup events.
"Through analysis of these past events and by applying a range of high level assumptions, it provides a broad forecast of the potential economic impact of hosting the 35th America's Cup to Bermuda."
Chart extracted from the report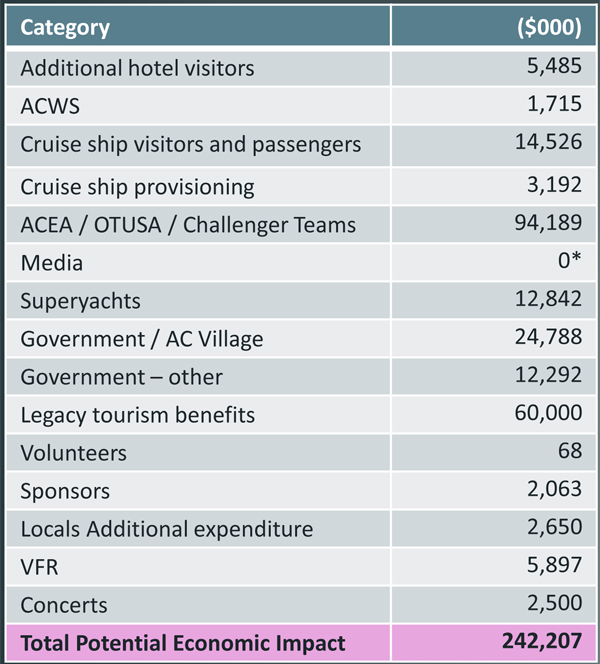 Mr. Mike Winfield, CEO of the ACBDA said: "The PEI is less extensive than a detailed economic impact assessment which is normally commissioned after an event and this study should not be treated as such.
"It is also important to note that this information was compiled during the bid process and since that time it has been announced that Bermuda will host the America's Cup Qualifier Series in its entirety.
"It is anticipated that this will provide additional economic impact as Teams, Sponsors, Visitors, Media, etc. will be in Bermuda for a longer period than first assumed," added Mr. Winfield.
The 14–page document covers a number of different factors including media exposure, additional hotel visitors expected, additional cruise ship passengers expected, superyacht visits, team spending and more.
"The Bermuda Tourism Authority [BTA] has calculated the media exposure generated from hosting AC35 to be worth approximately $20 million," the report said.
On the topic of potential superyacht visits, the report said, "We have assumed 40 superyachts are here for an average of 6 weeks, therefore 1,680 superyacht days.
"We have taken an average of the per day spend in Valencia and San Francisco, which equates to approximately $7,644 per day. This spending is mainly related to provisioning. This totals $12.8 million."
The ACBDA said the public is invited to review the PEI document which can be found on www.acbda.bm, and is also posted below.
The ACBDA's Potential Economic Impact Assessment follows below [PDF here]:

Read More About