[Updated: Two police officer have been left injured -- one with a broken wrist and one with a broken leg -- following a collision involving two police motorcycles during a training exercise.]
Just before 11.00am today [Apr 15], there was a collision in the Frog Lane area of Devonshire involving what appears to be two police motorcycles. Personnel from both the Police Service and Bermuda Fire & Rescue Service have responded to the scene, and while further details are limited at this time, we will update as able.
Update 11.42am: Chief Inspector Hashim Estwick said, "About 10.30am today, police responded to a vehicle collision along Frog Lane, Devonshire. This involved two of our police colleagues; they were both riding motorcycles.
"They have been taken to the hospital pending further inquiries into their injuries. At present, we are investigating the matter. We have the traffic collision investigator here, we have our forensic unit here, and we're conducting investigations into this matter."
When asked if the accident involved a training exercise, Chief Inspector Estwick said, "Yes, the two bikes were involved in a training exercise and the riders are experienced police riders, and they were both involved in the collision.
"We cannot say at present what happened as far as the collision is concerned; that is presently being investigated and at a later time of day, we will update you about the conditions of that collision."
Audio of Chief Inspector Hashim Estwick speaking at the scene
When asked if he could say whether the riders were traveling in the same or opposite directions, Chief Inspector Estwick said, "Not at this time. We are conducting an active investigation and we'll be able to say that at a later time."
When asked if excessive speed may have played a role in the collision, Chief Inspector Estwick said, "We cannot say at present whether speed was involved. What I can say is that both riders that were involved in the collision are experienced riders at the highest level.
"The bike that we're using is part of our fleet maintenance and it's part of our usual operating procedures."
When asked about the condition of the officers, Chief Inspector Estwick said, "I can't say now. I would say they were both taken by ambulance to the hospital and they're being treated at this moment."
Update 12.42pm: A police spokesperson said, "One officer apparently has a broken ankle while the other officer has injuries to his arms and legs, as well as what is believed to be a mild concussion. The injured male officers continue to receive treatment at the hospital at this time.
"Both police motorcycles involved were extensively damaged; however no one from the public was injured. The scene was processed by the Forensic Support Unit as well as the Traffic Collision Investigator and that section of Frog Lane has since been re-opened to normal traffic flow.
The investigation into the circumstances surrounding this collision is ongoing."
Update 4.51pm: A police spokesperson said, "As a further update, it has since been confirmed that both male officers injured in this morning's collision on Frog Lane suffered no serious injuries.
"One officer sustained a broken wrist while the other sustained a broken leg. Each officer also sustained cuts, bruises and abrasions. The investigation into the circumstances surrounding this collision continues."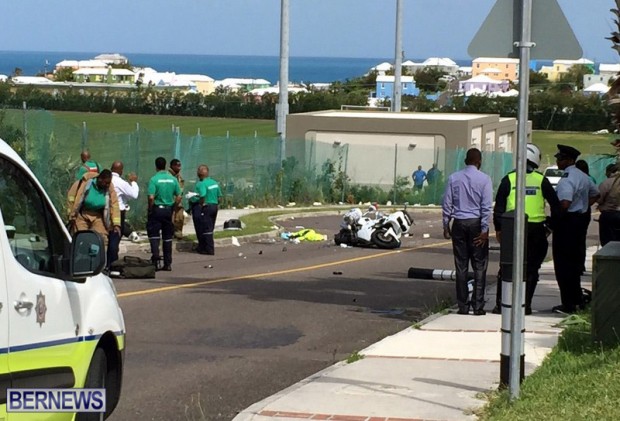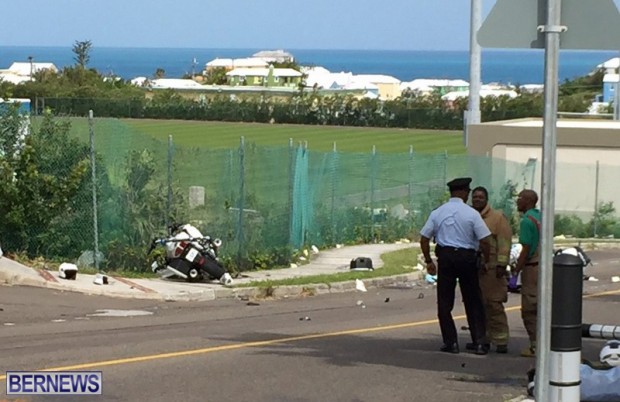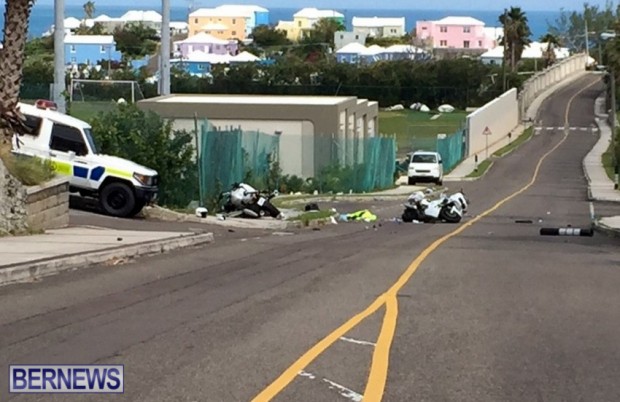 Read More About
Category: Accidents and fires, All, News