Minister of Education, R. Wayne Scott joined parents and students at Tomorrow's Voices Open House held yesterday [May 8] at their centre on King Street in Hamilton.
Since 2007, Tomorrow's Voices has operated the centre to meet the individual needs of children who are diagnosed with Autism or on the Autism Spectrum between the ages of 2 and 21 years of age.
Left to right: Ciré Furbert-Lambert; Therapist Jahnae Harvey; Therapist Tamara Bean; holding Serena VanPutten; Thea Furbert [Co-Founder & Board Chair]; behind Thea ,Therapist Emma Martin, holding Syncair Smith, Minister Scott; Therapist Danté Cooper; Therapist Natasha Pedro-Petty; Therapist Brittany Ricca; Kuhn Bean; Therapist Annalie Hawes and Danté Watson in the right hand corner.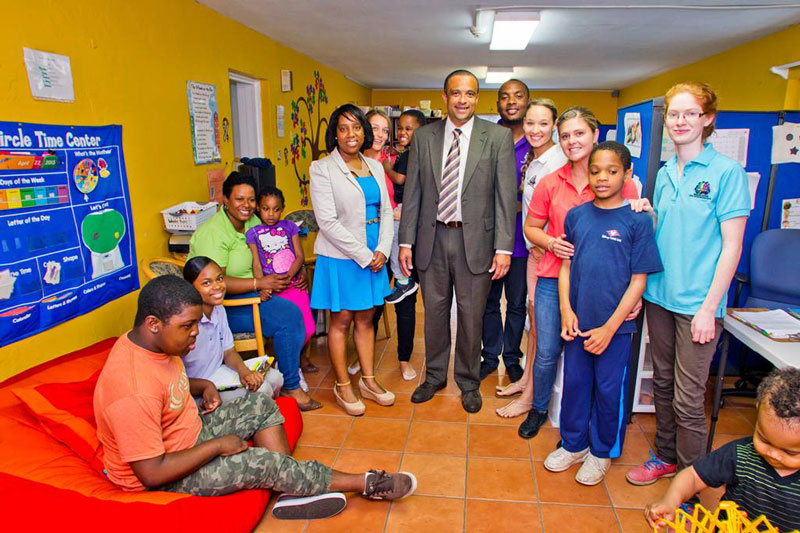 Minister Scott took the opportunity to praise the founders of Tomorrow's Voices, Mrs. Tricia Simons [Crow] and Ms. Thea Furbert for their vision to open an Autism Early Intervention Centre in Bermuda.
Minister Scott said, "I was very impressed with the curriculum and services that Tomorrow's Voices provides for students and their parents. I recognize that we have a need for these services in Bermuda and commend Tomorrow's Voices for offering such an invaluable service for children who are diagnosed with Autism or on the Autism Spectrum."
Read More About
Category: All