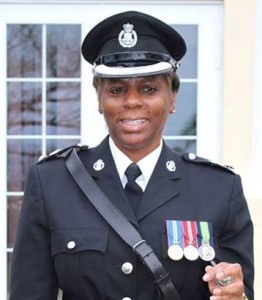 Sandra Cortina Beach has recently been appointed as Commandant Designate of the Bermuda Police Reserves.
Commandant Beach joined the Bermuda Reserve Police on August 17th, 1995.
She was promoted to Sergeant April 15, 1998 and continued to the rank of Inspector on September 30 the following year. She was then promoted to Chief Inspector on April 16, 2001.
During the month of May that year, as a Chief Inspector, Ms. Beach was exposed to the leadership as she oversaw the organization in the absent of the Commandant, Deputy Commandant and Superintendent. She has worked in all divisions and was promoted to Superintendent on September 30th, 2004.
Commandant Beach is known for organizing many community events from the policing aspect such as the Girl Guide Annual Thinking Day Service, Harbour Nights and the Annual Christmas Parade. She has received overseas training and attended several conferences in Barbados [1999], Canada [2001], London [2003] Bahamas [2007] and the United Kingdom [March 2014].
She has received the Queen's Jubilee Medal [2002], Queen Jubilee Diamond [2012] and the Colonial Long Service Award [Oct 21, 2010] for 15 years of service. Commandant Beach is currently employed at the Transport Control Department as the Account/Administration Officer.
Ms. Beach will be formally sworn in at a Change of Command Ceremony that will take place on Thursday October 8th," a police spokesperson said. "This also is an historical moment as she is the first woman to hold the post."
Read More About