The Bermuda Tourism Authority [BTA] and National Sports Centre [NSC] have formalised a new sports tourism partnership that is bearing fruit for the local tourism economy, particularly between September and March, the BTA said today.
"The BTA and NSC are working collaboratively to recruit sports teams to Bermuda. To incentivise teams to choose Bermuda, the BTA covers the team's use of NSC facilities in accordance with the partnership's rate sheet," the BTA said.
"Since the agreement was signed in April of this year ten visiting sports organisations have either committed or are in the final stages of committing to a programme in Bermuda at the National Sports Centre."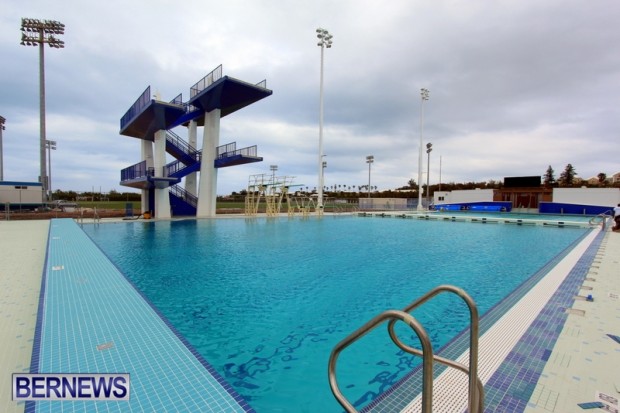 "We believe we have a solid foundation with the NSC to grow sports tourism, particularly in the winter months," said Pat Phillip-Fairn, chief product and experiences development officer for the BTA.
"Less than five months into the agreement we have a diverse array of sports, from a variety of countries. We think this bodes well for the future as we work to increase the volume of business and hone in on teams looking to train during spring break."
The initial list of ten include high school, collegiate, post-collegiate and Olympic athletes, utilising the NSC pool, track and playing fields in training sessions and tournaments:
Summer 2015
Red Bull Free Dive Safety Training
High School Field Hockey
College Field Hockey
September 2015
Post-collegiate Lacrosse [Takes place this weekend]
December 2015
College Track & Field Training [Mature talks underway with Canadian university]
February 2016
Olympic Swim Team Training [Danish team has signed deposit agreement with local hotel]
March 2016
Post-collegiate Rugby
High School Football
High School Field Hockey
Summer 2016
Red Bull Free Dive Safety Training
The BTA said, "Overall the ten events are expected to bring an estimated 435 visitors to the island from the United States, Canada and Denmark."
"This partnership is a win-win-win for Bermuda, the BTA and the NSC," said Bernie Asbell, interim CEO of the NSC. "Our priority remains on the local audience, but this partnership allows us to supplement our facility use, increase revenue in the visitor market and offset the cost to operate the facility. We can showcase the island as a training and competition destination.
"We see real growth potential. For example we're targeting Olympic swim teams in Canada, Denmark and Finland, educating them about our outdoor pool and its similarities to the Rio Olympic Games in terms of time zone and climate. We're able to make a strong case, especially when our partners in the hotel sector can offer preferential rates."
The NSC is nurturing working relationships with CoCo Reef, Grotto Bay and Rosemont hotels and is looking to work more regularly with other hotels as demand grows under the new partnership.
Read More About