The Bermuda Economic Development Corporation [BEDC] in partnership with the Ewing Marion Kauffman Foundation and The Entrepreneurial Learning Initiative [ELI] will be offering the Ice House Entrepreneurship Program [Ice House] to entrepreneurs and would be entrepreneurs this fall.
The BEDC said, "The programme is a 7-week challenging learning experience designed to reveal new opportunities, ignite an entrepreneur's ambition, and foster the skills that will empower anyone to reach new heights as an entrepreneur.
"Inspired by the life story of Pulitzer nominee Clifton Taulbert and the entrepreneurial influence of his Uncle Cleve, the Ice House Entrepreneurship Program draws on eight fundamental concepts that can empower anyone to succeed.
"The course will be facilitated by BEDC Economic Development Officers William Spriggs and Ray Lambert who both completed the Facilitator Training Programme at the Entrepreneurial Learning Institute in Kansas City, Missouri.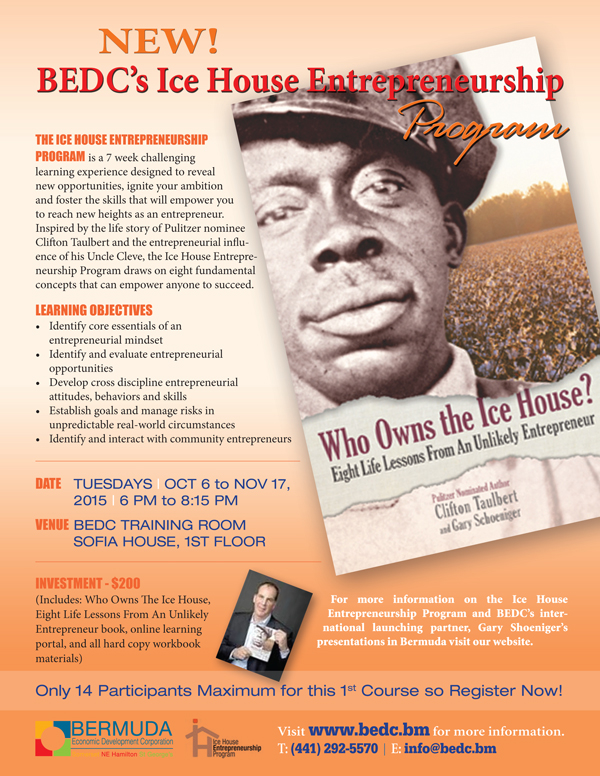 According to Mr. Lambert, "Ice House is a fantastic programme that encourages individuals to identify the core essentials of the entrepreneurial mindset. The combination of classroom interaction, video testimony, and field testing is beneficial to anyone interested in entrepreneurship".
Mr. Spriggs said, "As many people are looking to start or reinvent their business, Ice House teaches them how to view opportunities from a new perspective, how to establish goals, and how to manage risk in unpredictable real-world circumstances."
"The course will be offered on Tuesdays, starting October 6th until November 17th, 2015 from 6 pm to 8:15 pm, concluding most appropriately during Global Entrepreneurship Week 2015, which is a worldwide movement celebrating entrepreneurship," the BEDC added.
"The venue will be at the BEDC Training Room, Sofia House, 1st Floor on Church Street. Registration is $200 and includes "Who Owns the Ice House-Eight Life Lessons From An Unlikely Entrepreneur" book; access to the online learning portal; and all hard copy work book materials.
"The first course will be limited to a maximum of only 14 participants. To register, email info@bedc.bm or call 292-5570 to reserve your space today. Further information can be found at www.bedc.bm.
"To promote the course and share the Ice House mindset BEDC will be bringing Gary Schoeniger founder of ELI and co-creator of the Ice House programme to Bermuda during the week of September 14th 2015 to participate in a public speaking event and media interviews."
Read More About