[Updated] Police have responded to the Warwick area this afternoon [Sept 11] following an armed robbery at the Money Shop in Warwick, which saw two men brandish a firearm and demand money.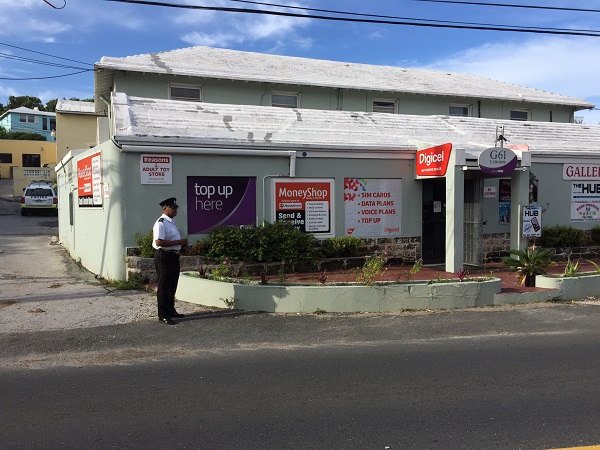 Police Media Manager Dwayne Caines said, "Police responded to a report of an incident that took place at the Money Gram store on Middle Road in Warwick.
"It appears that two men gained entry into the premises and brandished what appeared to be a firearm and made demands of money. They were given an undisclosed amount of money and they left the area.
"At present police are on the scene and an active investigation into the incident is underway. The police are appealing for anyone who may have any information on this incident, or who may have seen anyone in the area of the Money Shop to contact police on 295-0011."
Further details are limited at this time, however we will update as able.
Update 5.37pm: Audio of Mr Caines statement
Mr Caines added that the call came in at around 4.20pm, and said that police are asking for anyone who may have any information on this incident to please contact police on 295-0011 or the confidential Crime Stoppers hotline on 800-8477.
Update 7.56pm: Shadow Minister of Public Safety Walter Roban said, "We absolutely condemn the robbery at the Money Shop in Warwick today. Bermuda residents are angry and tired of unprovoked acts of violence that are only motivated by fear, greed and irresponsible, selfish behavior.
"The community must maintain a zero tolerance for all violent acts committed by persons who jeopardize the safety and security of all Bermuda's residence. Our support goes out to the management and staff of the Moneyshop and it is important for all in the community to assist and support them to move beyond this incident to return to a business as usual environment.
"We encourage any witnesses or anyone who might have information to bring the perpetrators to justice, to please cooperate with the authorities."
Read More About