Bermudian Daniel Augustus, the golf pro at Tucker's Point Club, has been awarded a $16,500 sponsorship to help him progress in the sport of golf.
With this sponsorship, Mr Augustus is being given the chance to pursue his ambitions of joining the Canadian PGA Tour, beginning with trial tournaments in January 2016, followed by 'Q' – School in April.
Clement Talbot presented Mr Augustus with a cheque for $16,500, saying: "I am confident that Daniel will be successful in his quest to qualify in the 'Q'-School trials qualifications for the Canadian PGA Tour in April, 2016 and to be one of the few Bermudian golfers to accomplish this goal.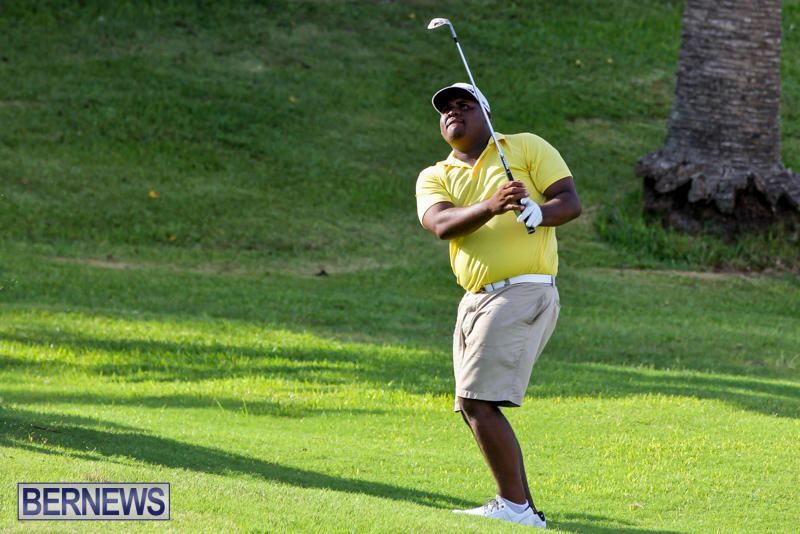 Mr Augustus, 28, has received a number of impressive achievements including being the 2009 Bermuda Amateur Stroke Play Champion, the 2012 Bermuda Open Champion, 2012 and 2013 Jack Daniel Tour Championship Winner and the 2013 and 2014 BPGA Champion.
"Daniel is the perfect role model for Bermudian youth," said Paul Telford, managing director of Rosewood Tucker's Point.
Robert Holland, from Tucker's Point Club, who has been one of Mr Augustus' valued golf mentors, also spoke to the group in order to congratulate Daniel.
Mr Augustus, who has been a Tucker's Point golf pro for the last two years, thanked his friends, family and supporters for their encouragement and support.
The fund raising efforts were started by Robert Holland, Clement Talbot and Paul Booth.

Read More About