Lawyer Mark Pettingill is preparing to take a case to allow two gay people to marry in Bermuda to court.
Mr Pettingill, a former Attorney-General, last week filed a notice of marriage to the Registrar General on behalf of Bermudian Ijumo Hayward, who lives in Atlanta and who wants to marry his American partner Clarence Williams on the Island.
Podcast with Mr Pettingill from last week speaking about the legal aspects of the application:
The Registrar had three days to advertise the notice in the Official Gazette, but nothing was published, meaning Mr Pettingill will take the case to court, arguing that the Human Rights Act trumps all marriage legislation and that the couple should be free to marry in Bermuda.
Mr Pettingill said he was "not surprised" that the notice had not been published and that he would now be preparing a Mandamus application to the Supreme Court which will seek to force the Registrar to publish the marriage notice.
The legal dictionary defines Mandamus as "A writ or order that is issued from a court of superior jurisdiction that commands an inferior tribunal, corporation, Municipal Corporation, or individual to perform, or refrain from performing, a particular act, the performance or omission of which is required by law as an obligation."
The couple's notice which was filed, and not published, by the Registrar General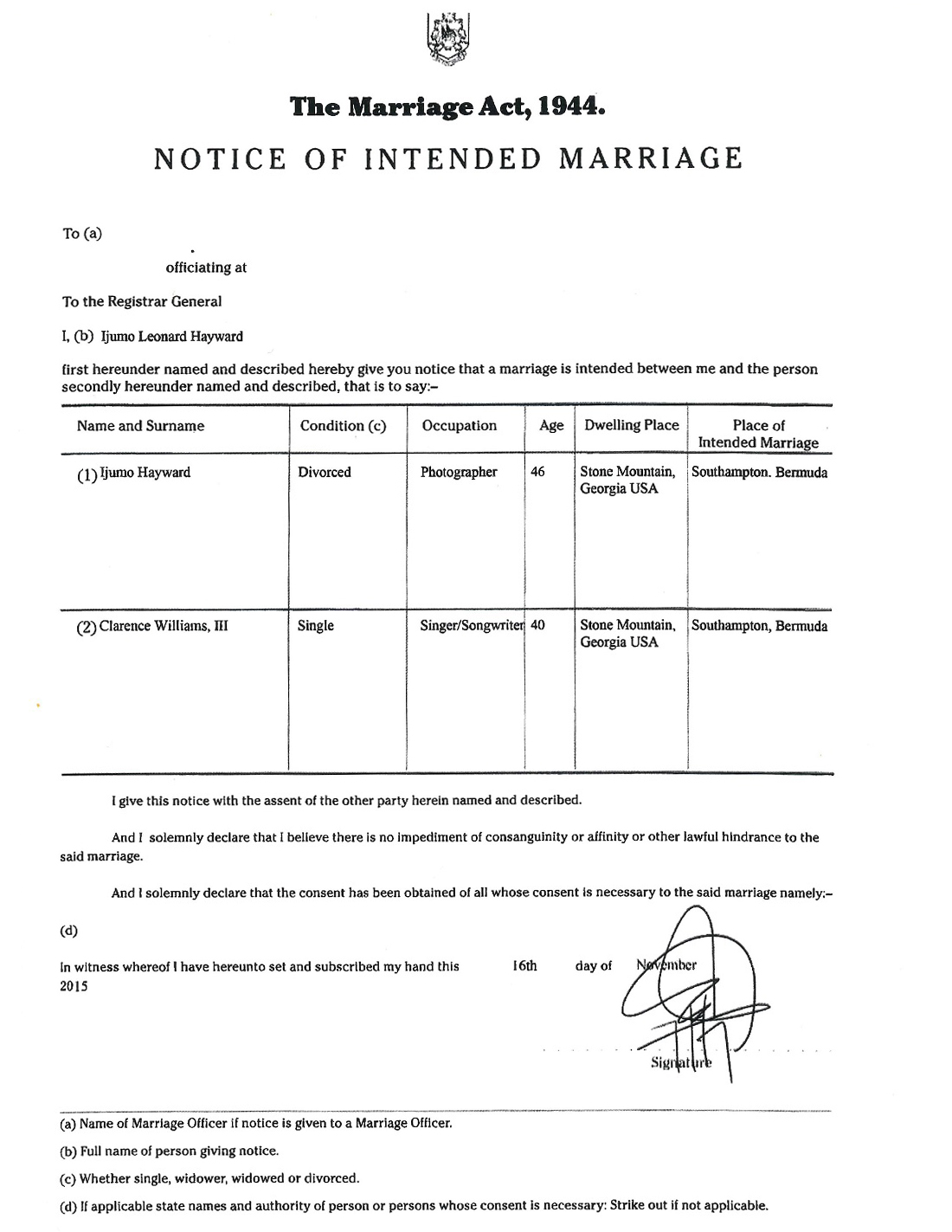 Following the application being filed, the Government said that the Minister of Home Affairs is "well aware of the application and is consulting with Chambers on the matter."
The Government added that hearing is scheduled for today [Dec 7] in "respect of issues relating to the Bermuda Bred Company Ltd judgment last week which we believe will add clarity to the matter as a whole."
The Bermuda Bred judgment saw the Supreme Court rule that non-Bermudian same-sex partners of Bermudians, who are in committed relationships, are entitled to live and work in Bermuda, with the ruling saying as "same sex marriage was neither possible nor recognised under existing Bermudian law, the relevant statutory provisions discriminated against Bermudians in stable same-sex relationships in an indirect way."
Read More About