Albert and Debbie Moura, owners of real estate company Moura & Associates, saw a gap in the furnished rental market and decided they could fill it. The couple, alongside their son Justin, have launched a new company named TurnKey Furniture Rentals.
Furniture rental companies, which are popular across North America, have never really been introduced to the Bermuda market and this furniture rental business was established to give both landlord and tenants another option for their long and short furniture needs.
Albert, Debbie and Justin Moura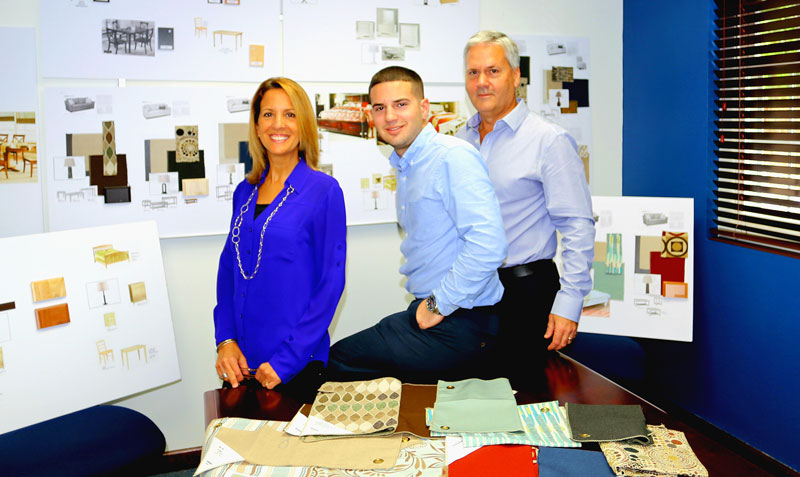 Mr. Moura states, "In our line of business, we see a lot of people moving to the island for only 1-5 years, and because of their relatively short stay, a lot are less than eager to purchase new furniture or go through the expense of importing their own furniture and paying duty on it.
"To help alleviate the stress of finding furniture, Turnkey provides the opportunity for new residents to have their homes or apartments completely furnished quickly and cost effectively." While this saves on the hassle of finding furniture, it also means that home décor and style is achieved. TurnKey Furniture Rentals is useful to renters, landlords and real estate agents.
Turn Key works by offering rental packages for living rooms, dining rooms, bedrooms and studios. The pre-coordinated packages, which are named after popular beaches across the island, have been put together by Mrs. Moura, who has a background in interior design.
Mrs. Moura states: "The packages are fixed to include the pieces of furniture deemed necessary to fill a space. There is a level of flexibility through different rental options, with the option to 'add-on' a tv and tv stand if needed."
Justin Moura, who will run the day to day operations of the company, plans to expand the business, in the not too distant future, to rentals of small kitchen appliances and kitchen accessories as well as outdoor furniture.
The owners said they "will ensure that TurnKey Rental Furniture provides quality, attractive, furniture and home essentials at reasonable rates. Turnkey will also arrange delivery and pick-up to make the transaction as hassle free as possible."
For more information about TurnKey Furniture Rentals and their products and services, please visit turnkey.bm, email info@turnkey.bm or call 535-1505.

Read More About