[Updated with video] Local entertainers Nadanja and Nishanthi presented their second annual Nadanja and Nishanthi N'tertainment Scholarships today [Jan 6] at City Hall, with 19-year-old Jadiyah Bailey and 21-year-old Shanna Henry named as the recipients. Both recipients are studying dance, and each received $3,000.
The scholarship supports the sibling artists' philanthropic endeavours to give back to the island's aspiring young artists who share their passion – the performing arts.
The scholarship was launched in 2014 during Nishanthi's 30th birthday charity fundraiser, and it is funded by part proceeds from Nadanja and Nishanthi's N'tertainment Productions and annual holiday raffle.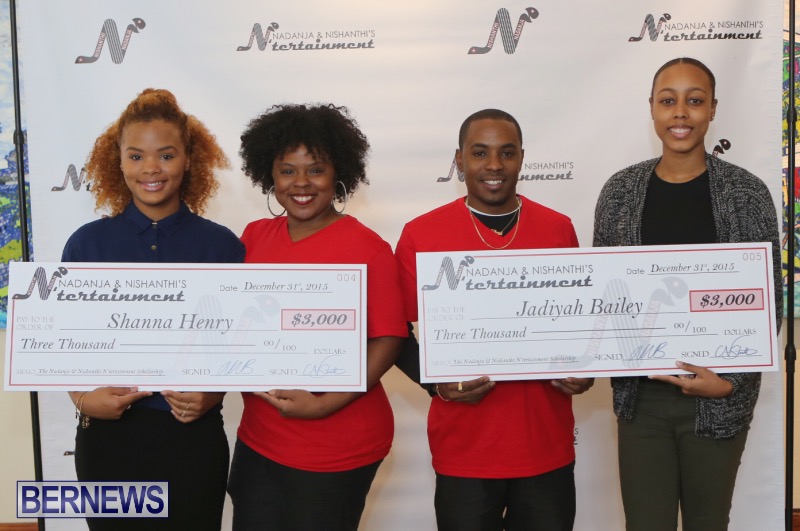 Jadiyah Bailey said, "I love to dance. Dance has provided me with many opportunities and has always been there for me. I once saw this quote that said, 'I dance to be free, to forget, and so that I can have something to love when I feel like nothing loves me.' At some point every dancer can probably relate to this.
"I would love to gain some more knowledge in my chosen area of study and that is why I wish to go to the UK in order receive higher education. While studying dance in the US for one year, I learned so much about technique, performing and the body and I absolutely loved it. I love investigating my own body making discoveries for myself about my body in class.
"After I receive my degree, I would love to dance in a professional company and eventually own my own dance school back home in Bermuda. Through performing, I hope to gain some more knowledge that perhaps you could not get in a class room, develop my artistry and of course do what I love, dance.
"My ultimate dream is to provide a safe environment for the youth of Bermuda at my dance school where they can do something positive with their free time outside of school. I want to provide opportunities for my students and provide them with the highest quality dance education that I can.
"Eventually, I would also love to have my own scholarship fund to help kids receive a higher education in dance in an effort to provide more scholarship options that are not currently available to me.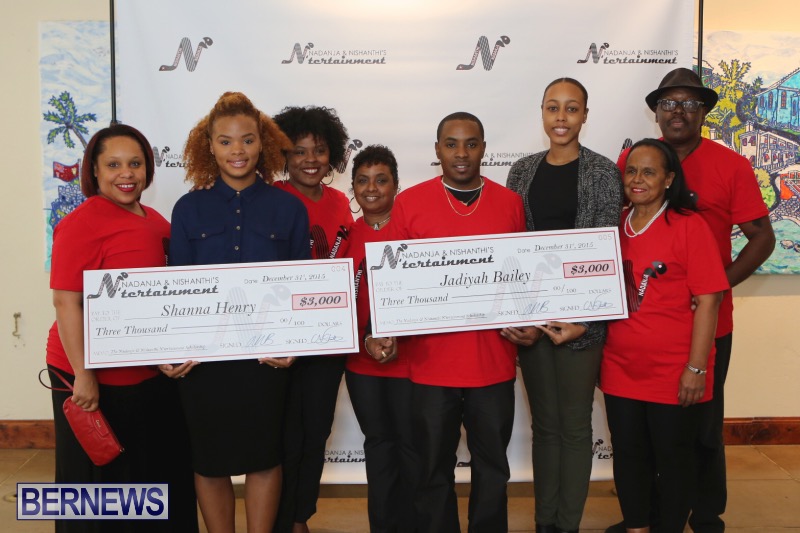 Shanna Marie Henry said, "As a young Bermudian, having such big dreams in a small island at times can be very hard to accomplish. My dream is to receive a Bachelor's Degree in dance and become a professional dancer. I will then continue onto graduate school working towards a Master's Degree in Television Production.
"Receiving The Nadanja & Nishanthi N'tertainment Scholarship, will help me reach my goals and fulfill my dreams financially. Receiving a scholarship will turn my dance and television production experiences into a way of life, rather than a form of study or an extra-circular activity.
"In September 2014, I embarked in a new journey of studying dance at Montclair State University in Montclair New Jersey. I am currently a sophomore studying dance under world know choreographers and performers who understand the discipline and dedication it takes to become something special. Montclair State Dance Program specializes in Ballet and various Modern techniques. While studying at Montclair State I have developed a new love for dance, in the midst of understanding who I am becoming as a performer.
"With the knowledge that I have gained from my experience abroad studying at Montclair State University, I intend to encourage teens and young adults to not be afraid of reaching towards their dreams in the world of The Arts. Even though my career path may take me all over the world, when I return home, I plan to support and assist others in making their artistic craft better encouraging them move forward in life.
"God has placed me on this earth for a special purpose. That purpose is to fulfill my dreams and help change lives throughout the world of dance. Henry David Thoreau once said 'One is not born on this earth to do everything, but to do something.' I believe this scholarship will allow me to accomplish my something as I embrace and continue to take full advantage of the experience of learning, while sharing my knowledge and passion with the rest of the world spreading love, peace and joy through media and dance."

Read More About