Seymour's Pond Nature Reserve in Southampton has been 'adopted' by Deloitte, with the company's sponsorship ensuring that the reserve, which is now open to the public, will be well maintained.
To mark the occasion, Deloitte CEO John Johnston and the Audubon Society's patron Governor George Fergusson planted a tree on the reserve at a ceremony,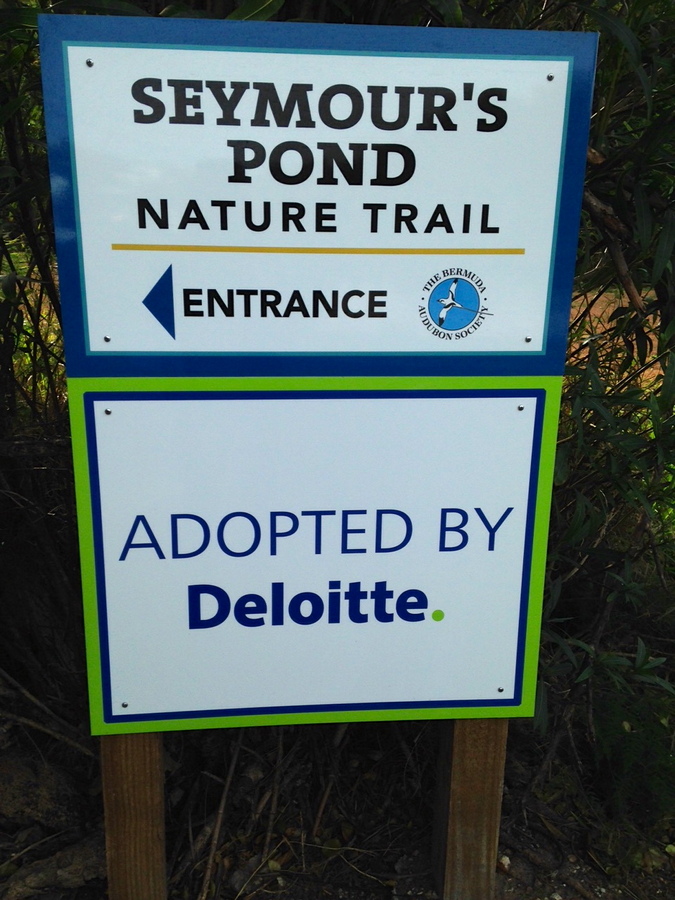 John Johnston, Chief Executive Officer of Deloitte Caribbean and Bermuda, said, "More and more, research is confirming that healthy communities and healthy businesses go hand in hand, and that's certainly something that Deloitte espouses.
"We care about making an impact that matters – not just by providing consistent, world-class service to our clients, but also by making a positive contribution to our community.
"We are delighted to have the opportunity to help provide a safe haven for so many species of wildlife at Seymour's Pond Nature Reserve, as well as to provide a natural, peaceful space for people to enjoy."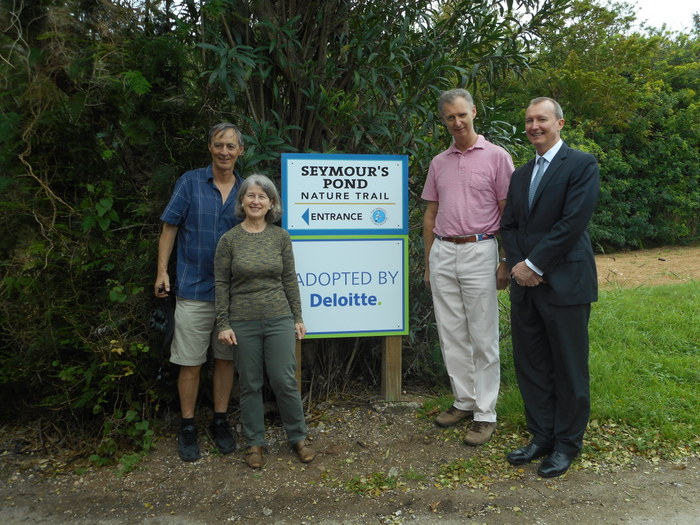 President of the Bermuda Audubon Society Andrew Dobson said, "We are grateful to Deloitte for sponsoring Seymour Pond nature reserve not only for the benefit of the wildlife, for which this pond is a vital oasis, but for the benefit of the whole Bermuda community.
"People will be able to enjoy a relaxing walk around the reserve, have a seat in the bird hide to enjoy watching for herons, ducks and egrets and get away from the busy, built-up world for a little while to 'recharge'.
"The Audubon Society owns over 60 acres of open space and as a wholly volunteer organization we do not have the manpower or resources to maintain that land on our own. We rely on the help and support of individuals and companies such as Deloitte to ensure that our nature reserves can best be enjoyed by the public."
A spokesperson said, "Seymour's Pond, located at Barnes Corner in Southampton, is highly visible to passing motorists. Backed by a densely wooded hillside and flanked by farmland, the pond provides a rich feeding ground for many species of migratory waterfowl including geese, ducks, herons and egrets. Moorhens, coots, pied-billed grebes and green herons have all been known to breed here.
"A major restoration of the pond was completed in 2011, when the pond was enlarged, a nesting island was created for waterfowl and steps were taken to prevent run-off from the road and adjacent farmland from polluting the water.
"In 2015 a circular walking trail with interpretative signage was cut through the woodland and a bird hide was constructed for better viewing of wildlife on the pond. Thanks to Deloitte's sponsorship, the trail will now be maintained by a professional landscaping company.
"Seymour's Pond was the first nature reserve established by the Bermuda Audubon Society by means of a public fund-raising drive in 1963. A second strip of land on the roadside was gifted to the society by the Masters estate in 1990, bringing its total size to 2.84 acres."
Read More About
Category: All, Business, Environment