Retail sales in January 2016 increased 4.4% above the $81.4 million recorded in January 2015, according to the recently released Retail Sales Index.
"Four out of the seven sectors experienced increases in sales revenue. Motor vehicle retailers registered the largest increase in sales of 26.2%. In contrast, building material stores recorded the largest decrease in sales of 10.9%" the report said.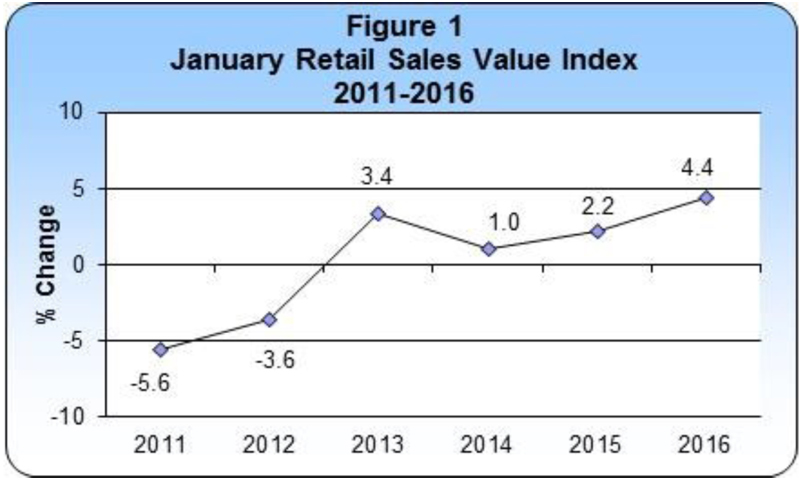 "Returning residents declared overseas purchases valued at $4.4 million, the same as in January 2015. This contributed to a combined local and overseas spending of $89.4 million.
"After adjusting for the annual retail sales rate of inflation, measured at 2.0% in January, the volume of retail sales increased 2.3%. Excluding Sundays, there were 25 shopping days during the month, one less than January 2015.
"Retail sales of motor vehicles were 26.2% higher than the level reached during January 2015. The number of vehicles sold increased 29.0%.
"During January 2016, sales receipts for service stations rose 6.2%. The rise in sales was due to a 11.2% increase in the price of fuel. In contrast, the volume of fuel sold fell 4.5%
"Receipts from food sales strengthened 3.4% while sales revenue for liquor stores decreased 1.3% year-over-year. The sales volume of food stores increased 0.6%. In contrast, liquor store volume sales slipped 2.9%.
"Receipts from the sale of building materials decreased 10.9% year-over-year. The decline in sales was linked to fewer purchases related to residential-construction projects. When adjusted for inflation, the sales volume fell 13.0%"
The full 2016 January Retail Sales Index is below [PDF here]:
Read More About