Royal Bermuda Regiment [RBR] first responders got a taste of Jamaican medicine after they joined their Caribbean counterparts at the country's main military medical centre.
The RBR medics teamed up with Jamaican Defence Force [JDF] medical experts for two weeks of intensive training at the main military medical centre at Up Park Camp in the capital Kingston.
And for RBR Private Latoya Brown, originally from Jamaica, it was a case of operating on home ground.
The 26-year-old hotel worker from Pembroke said: "I love being home."
 Privates Jahmir Durham, Latoya Brown, Shadaun Trott, Siva Hamaraikannan and  Zhane Virgil-Darrell.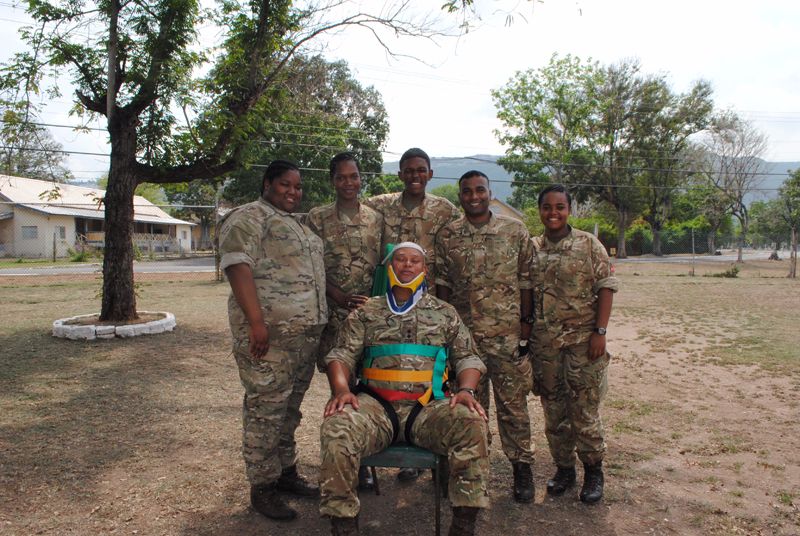 She added: "We're getting a wider base and new techniques, other ways of doing things. We're going to learn a lot we can take back home with us.
"We're now equipped to safely lift manually and with electrical equipment."
"And it's all useful in civilian life – we're trained to do what we have to do in any situation."
Pte Brown, in her second year in the RBR, said: "It's been good – I love it. The experience is great."
Medic Pte Jahmir Durham, a 21-year-old supermarket cashier from Devonshire, added: "Apart from the heat, it's great. I'm learning different stuff every day.
RBR medics [l to r] Latoya Brown and Jahmir Durham work to stabilise a 'car crash victim', with RBR chaplain Lt Musa Duba a patient with spinal injuries, while medic Siva Hamaraikannan looks on.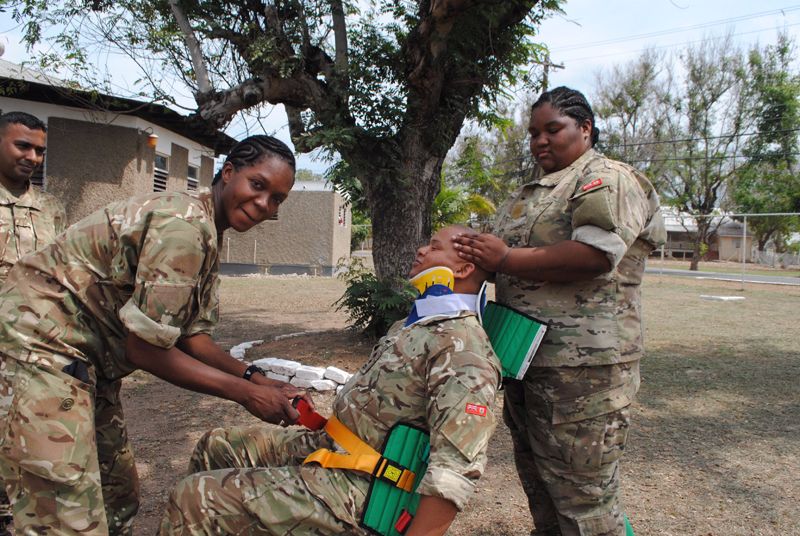 The three-year Regiment veteran added: "I wanted to be a medic because it can help me in my civilian life and my military life. It's worthwhile doing this because you learn so much."
The medics worked alongside professional JDF staff and got involved in administering intravenous drips to patients and performing minor procedures like removing a fingernail from a patient with a finger injury.
JDF Staff Sergeant Najah Brown, who is a qualified medic, emergency medical technician and pharmacy technician, said: "They are good.
"They're keen and working very hard and the standards are getting there.
"We would welcome an exchange programme where Regiment medics could come here – we'd be happy to have them."
RBR Medic Pte Jahmir Durham gives fellow medic Zhane Virgil-Darrell a fireman's lift as part of their emergency medical training at the JDR's Up Park Camp Medical Centre in Kingston, Jamaica.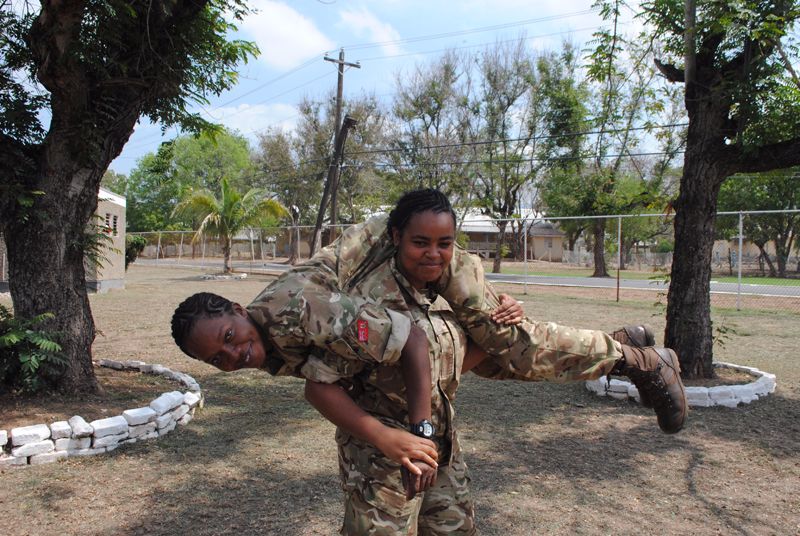 The medics will also spend time on the firing ranges at nearby Twickenham before joining the rest of the Bermuda contingent for jungle training in the Blue Mountains.
RBR Pte Siva Hamaraikannan, 31, originally from India, a chef at the King Edward VII Memorial Hospital in civilian life, said he joined the Regiment to boost his fitness and the opportunity to learn new skills.
He added: "I'm really interested in the medic side and I like the shooting. I was interested in joining the Indian Army when I was younger, but I never did."
The married father of one said: "We've all given a patient an intravenous injection – it's been great. We've all learned a lot here and we're very grateful to the JDF."

Read More About