For the second year in a row, the Team Hurricane Global Squad Invitational Skills Camp – held over the course of three days at Bermuda College and Warwick Academy – was "a triumph for Bermuda youth basketball."
A spokesperson said, "Team Hurricane Founder and President, Doug Reed, handed the reins to coaches Kevin Breslin and Christian Matthews of Alexander Basketball Academy, a well-regarded basketball institution experienced in bringing international players to U.S. college coaches. The camp was designed to scout and recruit, invited NCAA level talent from here in Bermuda."
First day of training at Bermuda College: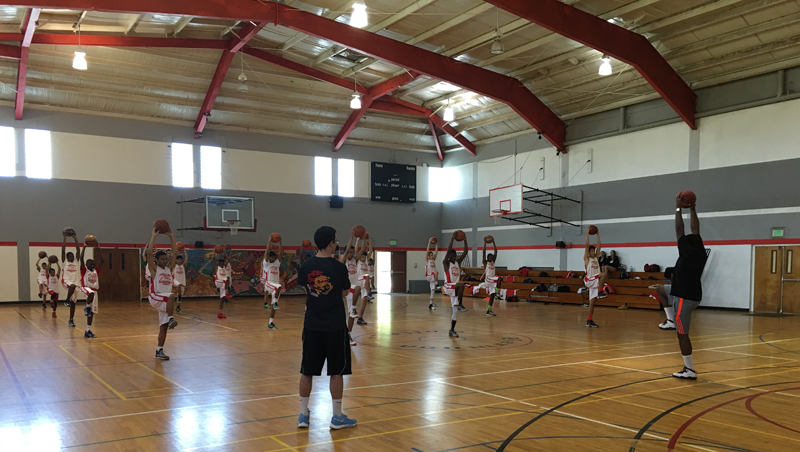 "Held over the course of three days at Bermuda College and Warwick Academy, the camp was a revelation as it highlighted the significant improvement of Bermuda's basketball talent. Players were challenged to push past their physical and mental limits.
"Student-athletes learned fundamental training techniques including proper footwork, speed, agility, ball-handling, and shooting. By camp's end, Team Hurricane players had the tools necessary to train at a high level.
"Must like the year before, what made the Skills Camp a triumph for Bermuda youth basketball was the positive insights the visiting coaches shared on the state of youth basketball in Bermuda.
"Coach Kevin Breslin, who also serves as an Assistant Basketball Coach at John Hopkins University [Baltimore, MD], had much to say about the talent and heart of young Bermuda players."
Coach Christian Matthews demonstrating a ball handling drill: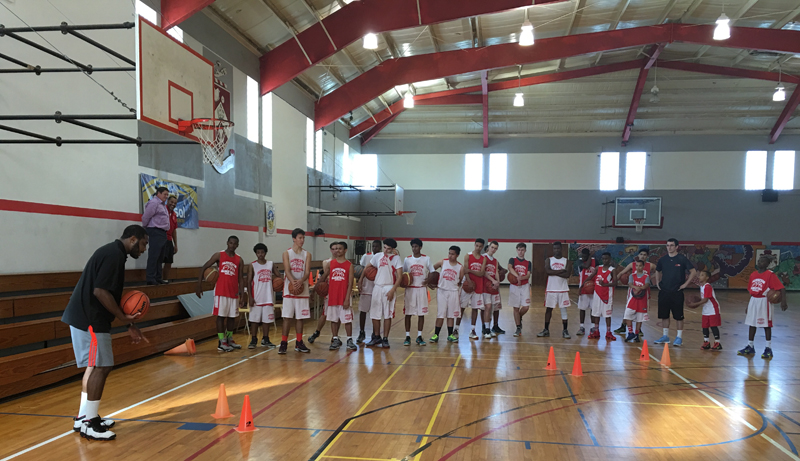 "Last April our staff at Alexander Basketball Academy came away from the first Team Hurricane-Global Squad Invitational very impressed with the enthusiasm for basketball on the island. Since that time the student athletes of Team Hurricane have further exhibited their commitment to academic and athletic excellence by attending our Global Squad basketball exposure camp in Philadelphia last summer.
"Due to their remarkable passion for the game and the tireless efforts of Coach Reed, Team Hurricane has made tremendous strides as a program since last year's camp and I eagerly await our next encounter with these hard-working young men."
Coach Kevin Breslin: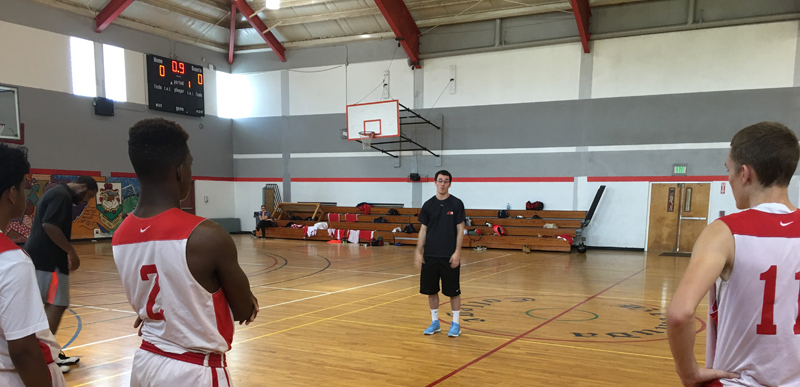 "Coach Christian Matthews put these kids through a grueling three-day basketball camp. He encouraged them to focus on performing the details of every drill correctly to better themselves and emphasized the long-term process over short-term results.
"They responded to every challenge and I fully expect them to continue their pursuit of the perfect process. With Coaches Doug Reed and Kent Tacklyn committed to finding and providing opportunities for their student athletes, the young hoopsters of Bermuda have a bright future ahead of themselves."
Second day of training at Warwick Academy: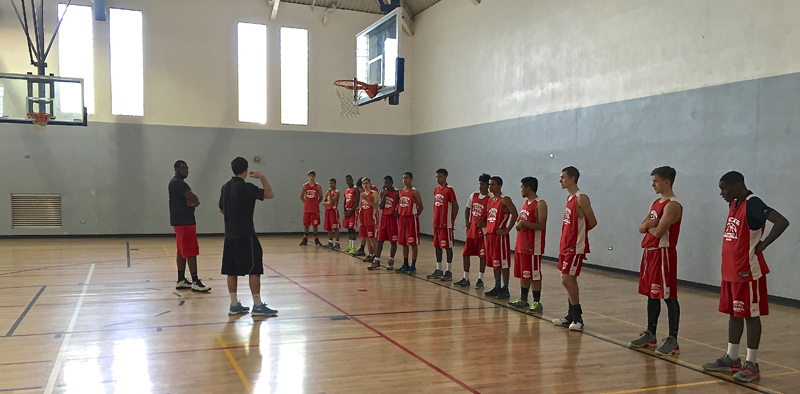 Head Coach Doug Reed said, "Working with the Alexander Basketball Academy has been such an awesome experience because it enables our program to provide an intense training environment for young student-athletes here in Bermuda. And this year, once again, the young men of Team Hurricane Basketball Academy carried themselves with such dignity and class while showing a competitive spirit to work hard and do all that was asked of them.
"Our players, through their efforts, demonstrated that there is quality talent to be found in Bermuda's youth basketball."
Second day of training at Warwick Academy: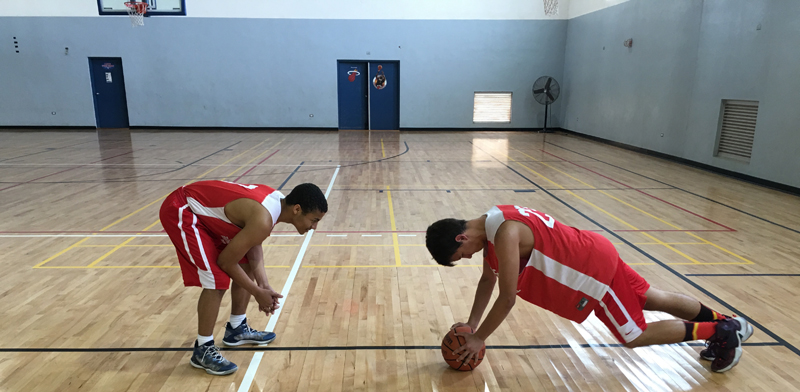 "Furthermore, this camp highlights the Team Hurricane Basketball Academy's ability to provide a platform in which student-athletes can train, develop and reach their academic and athletic potential.
"Such tremendous, life enriching opportunities for our student-athletes are made possible by all who have contributed to the Team Hurricane Basketball Academy: ABWilson Photography, Ace Group, Allied World Assurance, Argus Group, Butterfield & Vallis, FIL Limited, Ironshore, Jardine Matheson International Services, Orbis, Montpelier, The Peter Cundill Foundation, Tokio Millenium, Validus RE, XL Group, Zurich Insurance Company, as well as our individual donors.
"Their gracious support allows Team Hurricane to develop the youth of Bermuda through sports and education."
Group shot on final day: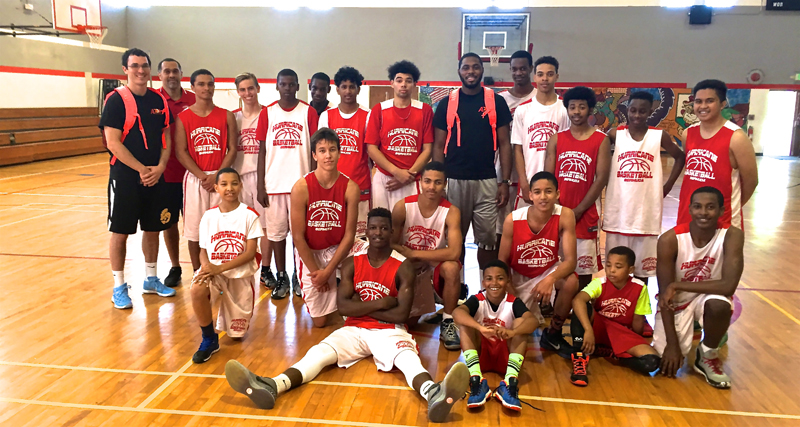 To learn more about Team Hurricane Global Squad Invitational Skills Camp and how to support the Team Hurricane Basketball Academy, contact Coach Doug Reed at 504-1962.
For more information, visit the Team Hurricane blog and Twitter page.

Read More About