The Bermuda Insurance Institute [BII] continues to provide innovative professional development opportunities for business women with their Women's Development Series taking place throughout May.
Upcoming sessions such as "A Woman's Role in Gender Diversity", "10 Things I Wish I Knew Earlier In My Career" and "Change is Difficult. Not Changing is Fatal – A Woman's Perspective" will be presented by accomplished industry leaders such as Caroline Foulger, Allison Towlson and Judy Gonsalves.
"Female professionals can benefit from the knowledge and experience of all the women presenters who have had long careers within the re/insurance industry and are able to provide their insight," a BII spokesperson said.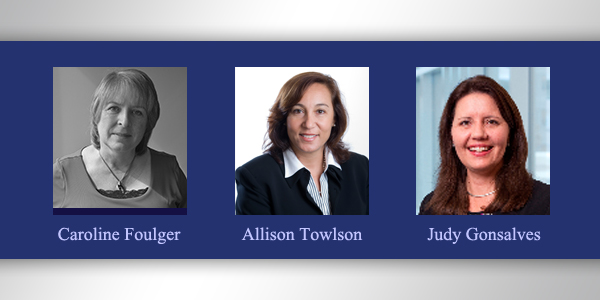 "The first two sessions: "Communicating with Confidence, Assertiveness and Authority" and "Professional Branding" presented by Kim Wilkerson, XL Catlin and Kathleen Reardon, Hamilton Re, respectively, were very well received with spaces selling out quickly. However there are still spaces available in upcoming seminars.
"Although designed for female professionals, the information provided can add value to male professionals as well. Topics as Communication, Leadership, and Gender Diversity are covered from a women's perspective for the benefit of all attendees.
Seminar topics and facilitators include the following:
Speaker – Topic – Date
Allison Towlson, Senior Vice President, Chubb 10 – Things I Wish I Knew Earlier In My Career  - May 18
Crystal Clay, Director Learning & Development, Chubb – Overcoming Limiting Beliefs  - May 19
Judy Gonsalves, Chubb – Change is Difficult.  Not Changing is Fatal – A Women's Perspective  - May 26
Caroline Foulger, Chairman, BDA – A Woman's Role in Gender Diversity – May 30
Cheryl‐Ann Mapp, Corporate Secretary & General Counsel of Ascendant Group – The Power of No!  - May 31
"Most of the Women's Development Series seminars will take place at the BII premises at Sofia House, 48 Church Street, Hamilton. These lunch and learn sessions are open to persons from any industry and registration can be done via the BII website: www.bii.bm, or by calling the BII directly at 295‐1596."
Read More About