The Bermuda Cricket Board has extended their congratulations to Rose Simmons and Nirobi Mills for being awarded Hiscox Scholarships
Mr. Speight, Executive Director extended a special thank you to Hiscox stating, "The Bermuda Cricket Board are extremely thankful for the support Hiscox has offered over the years. They came to Bermuda in 2006 and immediately met with me and wanted to see what they could do to help.
"Hiscox is now in its tenth year of sponsoring the under 11s cricket league that has more than 200 players. The Hiscox Celebrity Cricket Festival is now a main event with over 100 children competing in the Skills and Drills Tournament and over 1000 people attending the Festival game.
"Hiscox were also our sponsor for the Bermuda World Cup team. Their main focus has always been on the development of the children and we have achieved so much through their support."
Left to right: Nirobi Mills, Rose Simmons and Jeremy Pinchin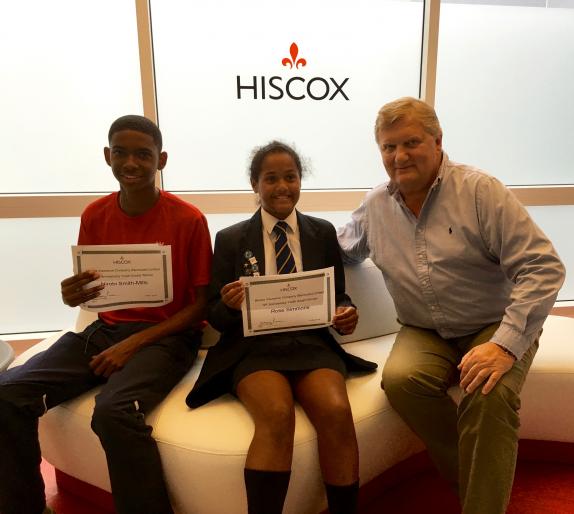 Mr. Speight continued, "I congratulate both Nirobi Mills and Rose Simmons on being awarded Hiscox scholarships. Both players started in our Pee Wee Cricket program at aged 5 and are now a part of the BCB National Academy program. Both exemplify the passion and spirit for our great sport!"
"Nirobi has been in the BCB Development Program for eight years and has been a regular member of the BCB National Academy squad. In 2015 he traveled to the UK with a BCB Development squad for a 10-day cricket tour.
"Nirobi plays for Bailey's Bay CC U14s and trains with their senior team. He has competed regularly in the BCB Youth Leagues for eight years and has attended BCB Cricket Clinics in 2013 and 2014. Nirobi is one of the outstanding bowlers of his age group and even trains with the Bermuda National senior team.
"Nirobi is very athletic, is also one of the fittest players and excels at track. Nirobi, and his family, are always supportive of BCB programmes and fund raising events and he continually exemplifies great sportsmanship and community spirit."
"Rose has been in the BCB National Girls Programme since 2014 and is a keen and enthusiastic all-rounder. Rose competed in the 2014 and 2015 Hiscox 11&Under Celebrity Cricket Festival and was awarded Hiscox 11&Under Player of the Match in 2015.
"In both games Rose skillfully bowled out radio host, Power Girl. Rose played for the Panthers in the BCB 2014 8&Under League and plays for the Axis Angels in the Hiscox 11&Under league this year. Rose attended the 2014 BCB All Girls Easter clinic, the 2015 BCB Summer Cricket Clinic [supported by Hiscox] and the BCB Easter Cricket Clinic in 2016."
"Rose continually exemplifies great sportsmanship and community spirit and is always willing to promote the game of cricket especially for girls! Last year, Rose volunteered her time at the Youth Sports Expo and during the International Day of the Girl event to promote and encourage girls to play cricket."

Read More About