Former Tourism and Transport Minister Shawn Crockwell approached some members of the PLP about forming a coalition government after he quit the OBA Cabinet, Bernews can reveal.
In the latest Bernews podcast – an in-depth interview spanning over 45 minutes — Mr Crockwell said it had been wrong to suggest he was considering crossing the floor of the House of Assembly to join the PLP.
However, in the interview he adds: "I do have quite a few friends on the other side [of the House] and I have met with a few of them and we have had conversations about the best way forward for Bermuda.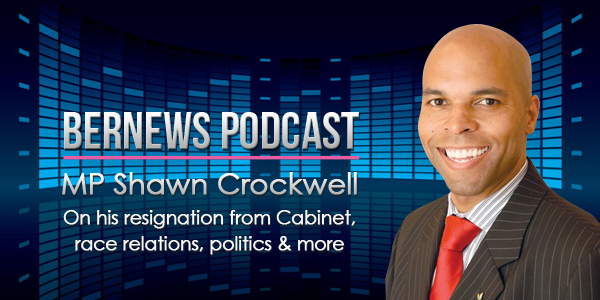 "I believe we have too much political divisiveness based on the fact that we have two political parties and the history of those parties.
"I would like to see a solution and I think the solution could be a form of coalition government," he said, adding that there "were discussions" but it was not "deemed feasible at this time."
On the Government, he said "certain views were not embraced" adding: "Too often we did not really listen to the concerns or we do not validate the concerns by members of the community.
"We have examined an issue and we have decided the position that we should go in and the direction and we base that on our analysis and our intellectual understanding. But we have to park that sometimes and validate and listen to the concerns.
48-minute podcast with MP Shawn Crockwell:
"On many occasions I felt these issues were very sensitive as they relate to the black community, we should have paused and tried to embrace it.
"It is not always about the decision. I am not undermining the decision. In most of those cases when you listen to the Minister articulate the reasons why I supported going forward.
"But quite often I would provide consultation that we should try and validate some of the concerns in the black community.
"If we had done that, we may not have found ourselves in the positions we were in."

Bernews' podcasts aim to provide an in-depth look at current affairs, and the text extracts above represent only a small portion of the full interviews.
You can also download the episode in MP3 format here, view past podcasts here, subscribe via iTunes, or download the Bernews app and enjoy advance listening, with each episode available for download directly to your phone or tablet earlier than it is released on our main site.

Read More About