In the latest Bernews podcast, we talk to Namrata Bisht who may not yet be a household name – but she is a Premier and as such she has some forthright views.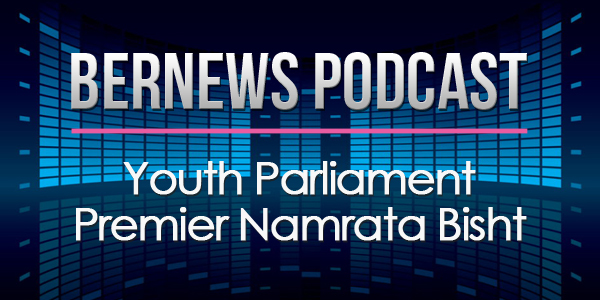 Ms Bisht, a BHS student who also went to CedarBridge, is the Premier of Bermuda's Youth Parliament which meets weekly throughout the school terms.
She is trying to bring a more international perspective to debates, such as the on-going war in Syria, whilst at the same time encouraging a more community-based approach.
10-minute podcast with Namrata Bisht:
And if she were Premier for real?
"One of my number one priorities would be to spread awareness about equality," she said. "That would be probably be accomplished through legislation for marriage equality in Bermuda."
She said she would also bring more awareness about the disparity in wages in Bermuda.
She said that the Youth Parliament was very civil in its meetings, adding: "We are very respectful of the Speaker and we follow all Parliamentary procedures."

Bernews' podcasts aim to provide an in-depth look at current affairs, and the text extracts above represent only a small portion of the full interview.
You can also download the episode in MP3 format here, view past podcasts here, and subscribe via iTunes or to our app to download all our podcasts directly to your phone or tablet.

Read More About