Japanese sailor Yugo Yoshida joined SoftBank Team Japan at Louis Vuitton World Series New York this week as a reserve crewmember experiencing his first taste of America's Cup competition.
While not on the sailing roster for the racing this weekend, Yoshida participated in practice on Thursday – part of the next phase of his development with the sailing squad in the build up to the 2017 America's Cup.
"I'm very excited and happy to be here", said Yoshida. "To get to this point it's been a lot of hard work, but hard work is good. Every day you have to have the right mental attitude to love the training and work. I'm so happy to get my chance to come to New York with the team."
The 32-year-old Olympic 470 sailor was discovered through the team's Japanese crew trials process in Zushi, Japan back in November.
Since moving to Bermuda to train with the team in January, Yugo has quickly earned his rotation into the sailing team having spent plenty of sessions racing the team's test platform, the AC45 Sport, on the Great Sound.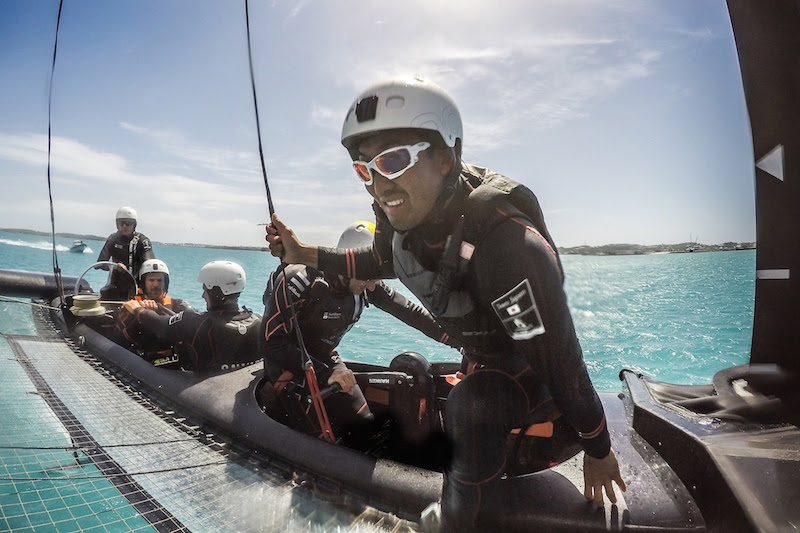 In addition to his already proven sailing skill, Yoshida has also spent the past 3-months in the gym already having added 4kg of muscle to his frame forming him into an ideal grinder/bowman on the team's test boat. He and his Japanese counterpart Yuki Kasatani are quickly becoming new weapons in the team's America's Cup arsenal.
"Yugo and Yuki have done exceptionally well", said Skipper Dean Barker. "The progress they've made in the training on the test boat in Bermuda has been great.
"Yugo came in with a great deal of sailing experience in his own right and you can see that clearly when you go sailing with him. We're keen to keep developing our team and make sure we're rotating other sailors into our World Series lineup. This was the next step in giving him a taste of competition."
Veteran Japanese America's Cup sailor Kazuhiko Sofuku affirmed Dean's impressions, "It's been incredible. The way he's learned so quickly and fit into the team; his attitude has been incredible."
Tactician Chris Draper, Bowman Kazuhiko Sofuku, and Grinder Jeremy Lomas will back up Skipper Dean Barker during the New York event. Grinder Simeon Tienpont will also be sailing with the team in his SoftBank Team Japan America's Cup World Series debut.

Read More About