Perseverance and a 'can do' attitude are key if people are going to put failure behind them and lead a successful life.
That was a key message to the Saltus Grammar School class of 2016 as they celebrated their graduation at a packed ceremony at the Anglican Cathedral last night [June 2].
Fifty-four students graduated – two will take a gap year and 52 will go to universities in Canada, the USA and England, including the Royal Veterinary College, London, Dalhousie University, and the University of St Andrews.
Guest speaker and Chief Financial Officer at Hamilton Re Vanessa Hardy Pickering, who was among the first female students when Saltus went co-ed 25 years ago, told the graduates that she had encountered failure in her career.
"The key is to say 'that sucks, but I can do it'. The subject is perseverance, which means you can do it when you try," said Ms Pickering.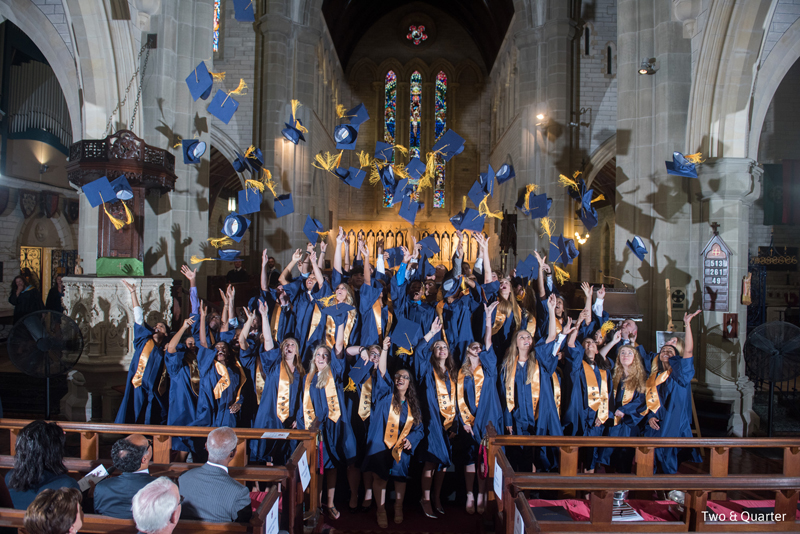 She told the graduates that when she was younger she suffered from scoliosis, or curvature of the spine, and for four years wore a brace "the length of my back", causing her to miss a lot of school.
"I had support of my family, teachers and friends and giving up was not an option," said Mrs Pickering, who also told the graduates that early in her career at EY she failed her tax exam.
"I was not trying hard enough. I just did not want it enough to give it my best shot. There comes a point when you have to make a decision, do you give up or do you keep going."
Head of School Ted Staunton said that the Class of 2016 – 30 girls and 24 boys – was an extremely talented group and had, between them, received more than $500,000 in scholarships.
"They have distinguished themselves in all areas of school life and they have exemplified the mission of the school," he added.
Nicole Chichon de Silva [the Head of the Upper School] announced each student who received their certificates from Ms Pickering and the Chairman of the Trustees Mr Gil Tucker [an alum and former Head Boy].

Read More About