The Bermuda Underwater Exploration Institute [BUEI] will present a screening of the documentary "A Plastic Ocean," a film that sports the tag line "we need a sea of change."
The screening will take place on Wednesday, June 8 at 6.30pm.
The event poster says, "On World Ocean's Day, BUEI Talks is proud to present the exclusive world-first screening of the documentary A Plastic Ocean followed by a Q&A with producer Jo Ruxton.
"The film begins when journalist Craig Leeson, searching for the elusive blue whale, discovers plastic waste in what should be pristine ocean. In this adventure documentary, Craig teams up with free diver Tanya Streeter and an international team of scientists and researchers, and they travel to 20 locations around the planet to document the global effects of plastic pollution – and introduce solutions that can change things for the better.
"Jo Ruxton is one of the producers of A Plastic Ocean. She gained years of experience working with the BBC Natural History Unit on wildlife documentaries, such as Blue Planet, LIFE and Pacific Abyss.
"She co-founded the non-profit organisation, Plastic Oceans, to raise awareness of the scale of plastic pollution. The group promotes workable technologies and policies with the ultimate aim of resolving the crisis within one generation."
The presentation will get underway on Wednesday, June 8 at 6.30pm, with a Sushi Happy Hour to be held at Harbourfront from 5.00pm to 6.30pm, with dinner opening at 6.00pm.
Tickets cost $20 for members and $25 for non-members, and are available by calling 294-0204 or visiting BUEI's Oceans Gift Shop.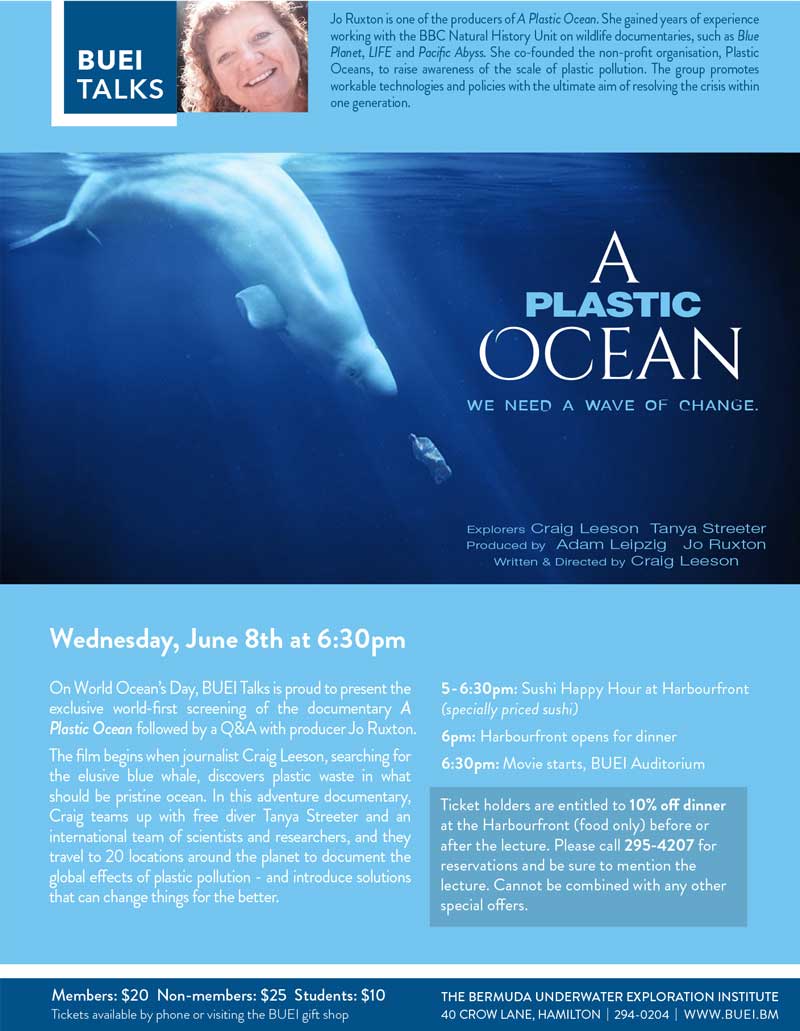 Read More About
Category: All, Environment