[Written by Chris Museler]
When the Chilean-flagged Swan 57 Equinoccio powered through a Gulf Stream squall last weekend during the Newport to Bermuda Race, the speedometer pegged 15.7 knots, a record for the boat.
As the sheets strained, a tiny voice rang up from the companionway, "Usted debe tomar la vela hacia abajo o irá en el agua!"
What little 3½-year-old Larry Westcott was saying to his father was this: "Take the genoa down or it'll get ripped off and blown into the water."
Father Martine Westcott obliged. He dropped the genoa, took in a reef, and the boat galloped along under shortened sail until the squall passed.
"That was a precise call he made," said Martine, recalling the moment.
The teeny sailor has sailed more than 5,000 miles with his mother, father, Uncle Philip, and crew. He was cheerfully greeted by Royal Bermuda Yacht Club Commodore Leatrice Oatley.
The crew of the Chilean Swan 57 Equinoccio including 3.5 year old Lawrence Westcott with Leatrice Oatley, Commodore of the Royal Bermuda YC. Photo Tom Clarke/PPL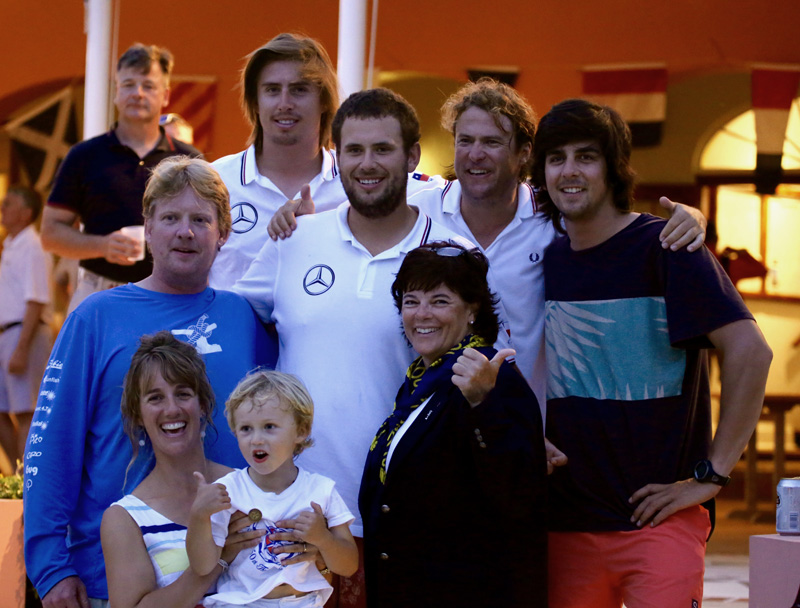 This tot came about ocean sailing honestly. His father was a wide-eyed Chilean 18-year-old when he had the exceptional experience of sailing with legendary Bermudan yachtsman and adventurer Warren Brown, who sailed his famous War Baby was all over the world.
A founder of the Onion Patch Series and a member of the Newport Bermuda Race Roll of Honour, Brown spent time with Martine's family at their yacht club in Chile, and stayed at their home.
Once Martine turned 18, Brown invited him to sail from New Zealand to Tonga, where they weathered the treacherous 1994 Queen's Birthday Storm in which several boats and sailors were lost. The two men were reunited in Bermuda two years ago, not long before Warren Brown died in 2014.
Martine recalls Brown saying, "I have been in four hurricanes in my life and one of the biggest was with you."
Martine eventually grew his blueberry business, Blueberries Patagonia, and as his son started to walk. He bought Equinoccio in 2014 from a Chicago owner, and sailed her through the Great Lakes to New York—and then to Bermuda, the Caribbean, and Brazil.
This year he brought her to Newport to sail the Newport Bermuda Race. The Azores and Spain are the next stop.
The Chilean Swan 57 Equinoccio competing on Bermuda's Great Sound today . Photo Barry Pickthall/PPL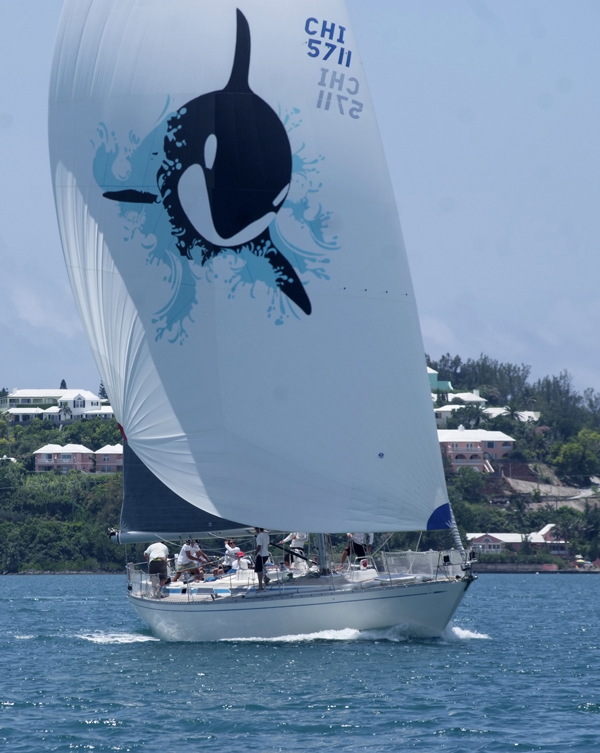 The life of such a small person aboard such a large, oceangoing sailboat is a fascinating delight for even the most seasoned sailor.
The secret to Larry's enviable life lies with his handler, mother Melanie. "I'm on watch 24 hours," she said as she and Larry batted around a colorful little rugby ball in the teak-paneled main saloon. "He's my watch. I'm off watch when he sleeps."
When asked how the race went, she exhaled the familiar sigh of an exhausted parent and said, "The race went quite well. There were big breezes but nothing this boat can't handle."
Larry's routine includes plowing through writing packets, painting, and his favorite routine of building and demolishing Lego viners that showcase a world only he can see. Above decks, he pops over and around the various coamings, winches, and sail tracks on the massive Swan, not pausing for a second even he trips on a cleat.
His parents' inspiration for traveling at sea this year is the Bermuda Race, and they started this trip as a family experience and plan to rest only when Larry starts school. Last week's voyage is his second from Newport to Bermuda, and his first race.
If this sailor with a mop of bright blond curls keeps up his travels, he will certainly be far ahead of even where his father was at 18, when he went to sea with Warren Brown.
And his parents certainly hope their son will become a member of yet another generation practicing, learning, and sharing the abundance offered by a life on the sea.

Read More About