This year the Ministry of Education awarded Bermuda Government Scholarships [BGS] to four students who will be commencing their studies overseas in September.
Each scholarship recipient received funding towards their cost of tuition and accommodation up to an annual maximum of $35,000 for a period of four years.
In total, the Ministry of Education will be funding 21 Bermuda Government Scholarships comprising new, existing and extended awards, an increase from last year.
The purpose of the Bermuda Government Scholarships is to recognise and support Bermuda's top scholars in their pursuit of post-secondary studies. Overall, this year the Bermuda Government will be issuing scholarships and awards to students valued at a total of $1.1 million.
 Claire Conyers, Minister Scott, William Peniston, Dejanee Hill-Edwards and Elizabeth Parsons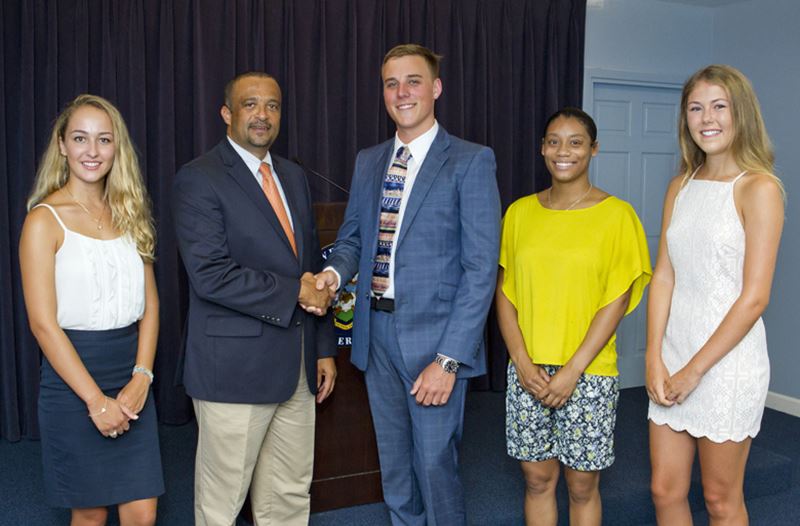 The Minister of Education Wayne Scott congratulates all recipients and said, "Further education is very important in today's changing and diverse global economy. The government recognizes all areas of learning and will continue to provide the financial support that our students need as they pursue higher levels of educational growth."
The 2016 BGS awardees are:
Claire Conyers is the 2016 recipient of Bermuda's Outstanding Teen Overall Award, Leadership Award and Academic Achievement Award. Claire is passionate about pursuing a career in medicine and has volunteered at a number of places that link to health care. She served as Head Girl at Warwick Academy, and to heighten her leadership skills has attended several international leadership conferences. Claire's passion for service and medicine found her volunteering at Agape House, Tomorrow's Voices autism group as well as Westmeath Nursing Home. Claire was thrilled to accept her offer from University of Edinburgh to their six year medical undergraduate degree commencing September 2016.
Elizabeth Parsons will commence her pursuit of a Bachelor's degree in Biology at Wagner College, New York in September 2016 before entering medical school to specialise in orthopaedic surgery. Elizabeth was Deputy Head Girl at Saltus and a Senior Prefect during which time she was instrumental in the implementation of a school wide academic peer mentoring scheme. She is a champion golfer having won the Bermuda Amateur Ladies Fourball Championship for the last four years. She has devoted countless volunteer hours in support of the golfing associations and mentoring young, aspiring golfers. She looks forward to qualifying as a doctor and returning to Bermuda to join the medical profession in service to Bermuda.
William Peniston has a passion for medicine and in September 2016 will commence his studies at The University of St. Andrews in pursuit of a degree in Medicine with the ultimate goal of entering medical school. At Saltus he was Deputy Head Boy and Senior Prefect; he has represented Bermuda in debate, public speaking, bridge and swimming. His service to the community was recognised when he was awarded The Police Commissioner's Vision Award for embodying the values of professionalism, integrity, respect, accountability, dedication, courage and unity. His determination to become a physician was solidified this past summer during a volunteer placement he had the opportunity to work-shadow local physicians. William loves his island home of Bermuda and looks forward to returning to contribute to developing a healthier Bermuda.
Dejanee Hill-Edwards is a lifelong student of the Bermuda Public School System and passionate about learning. In May 2016 she created history, being among the first cohort of Dual-Enrolment students to graduate with an Associate Degree from the Bermuda College and a Bermuda High School Diploma from Berkeley Institute. Dejanee will continue her scholarly journey in September 2016 when she commences studies at St. John's University to pursue a degree in Qualitative Risk and Insurance. Dejanee was Deputy Head Girl, Prefect Council Member, Stage Manager of the Arts Department and she is a member of Youth Parliament Bermuda, having served as Youth Premier and currently serves as Youth Speaker of the House. In addition to all of that she has performed countless hours of community service. She looks forward to achieving her goal of becoming an Underwriter, she will enter St John's University in New York as an undergraduate and plans on returning to Bermuda to work and contribute to the international business sector.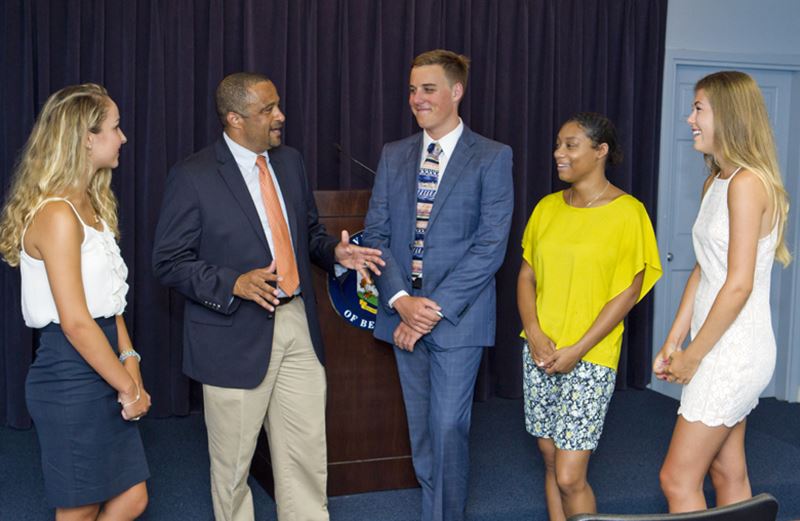 In addition to the Bermuda Government Scholarships, the Ministry also provided:
Seven Minister's Merit Awards
Four Teacher Training Awards
Three Mature Student Awards
Twenty-one Further Education Awards
Minister's Merit Award [MMA]
1. Chantae Hollis [Bermuda College]
2. Jordan Bascome [Berkeley Institute]
3. Tyler Smith [Bermuda High School]
4. Margaret Dunne [Bermuda High School]
5. Tess Spencer [Bermuda College]
6. Imani Smith [Berkeley Institute]
7. Malik Alick [Berkeley Institute]
Teacher Training Award [TTA]
1. Antrell Butterfield – BSc. Sociology & English Language, Birmingham Metropolitan College
2. W. Tre Ming, BSc. Education, Thomas College
3. Kievonne Simmons, BSc Education, Teacher Training – Florida International University
4. Jahni Pearman, BSc. Education, Teacher Training – Florida International University
Mature Student Award [MSA]
1. Elizabeth Braithwaite, MSc. Special Education, Miami University
2. Andrea Ming, Practical Bar Training Course, BPP University
3. Sia Spence, BA Fine Arts Media Production/Film, American Intercontinental University
Further Education Awards [FEA]
1. Tamae Clarke
2. Eric DeSilva
3. Jamila Eve-Cann
12. Jonique Crockwell
13. Crystal Dill
14. Mareliano Jones

Read More About