The Bermuda Football Association is launching the 2016 Women's League, with games to be played on Friday evenings starting at 7:00pm at the Clyde Best Center of Excellence commencing this Friday, August 5th.
"The women's game continues to grow worldwide and we must do all that we can to promote the game in Bermuda. Currently, the League will start with four teams consisting of a blend of seasoned veterans with young and extremely talented players," the BFA said.
"Many of the players featured in the League attend local high schools or high schools and colleges abroad. This certainly bodes well for the future of Bermuda's Women's game both domestically and internationally.
"We are also pleased that each team will be coached by women who have successfully completed the FIFA Women's Coaching Course held last year."
"We are still encouraging any interested player over the age of 15 to contact the BFA at 295-2199 or bfa@bermudafootball.com .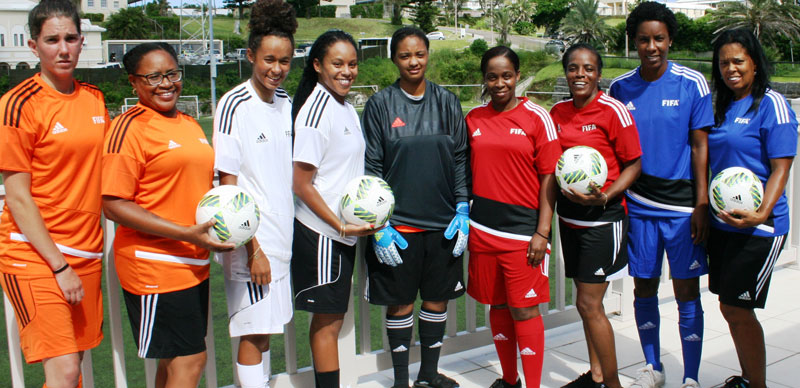 Longtails
Aaliyah Nolan
Taznae Fubler
Terita-Rae Bean
Rayni Maybury
Teyah Lindo
Stacy Babb
Leah Smith
Shaela Burnard
Victoria Davis
Jade Stewart
Micah Pond
Kiskadees
Keunna Dill
Chelsea Harvey
Cleshannay Darrell-Virgil
Tschana Wade
Ky'Anah Outerbridge
Shonte Campbell
Kashintae Fox
Tasharah Richardson
K'Shaela Burch Waldron
Nyisha Sanuders
Cahows
Kascia White
Khyla Brangman
Symira Lowe Darrell
Alexis Trott
Tamisha Darrell
Anderica Gilbert
Dionne Pitt
Ebonie Burgess
Eva Frazzoni
Iesha Musson
Drewnai Bascome
Herons
Zahra Gibbons
Sideya Dill
Shuntae Todd
Jessica Furtado
Tina Wall
Juanita Coley
Kendrea Dill
Waynesha Bean
Sharrifa Crockwell
Ember Butterfield
Coaches
Cheyra Bell
Suzette Albouy
Allanette Hayward
Dionne Dowling
Dominique Richardson
Selina Bascome
Vinze Zuill

Read More About