"ABIR members recognize that Bermuda's lifeline to the rest of the world – the 70-year-old Bermuda LF Wade Airport Terminal – is decrepit, subject to extraordinary maintenance costs, and at enormous risk from sea level rise and hurricanes," the Association of Bermuda Insurers and Reinsurers [ABIR] said today.
"The sewage system is antiquated and subject to malfunction due to tide and wind conditions thus creating a potential public health hazard to workers and visitors.
"A consensus is emerging that the airport terminal is beyond repair and that a new facility is needed. We are not experts on Bermuda's infrastructure priorities, but we believe that the current airport facility needs to be replaced and that such replacement will benefit Bermuda.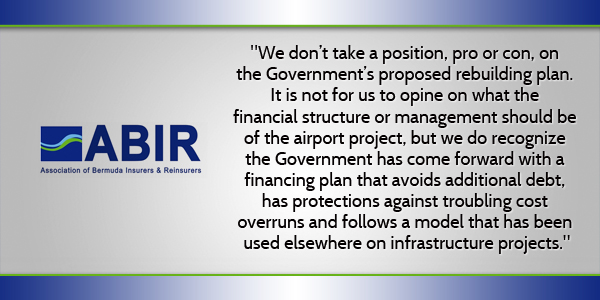 "We don't take a position, pro or con, on the Government's proposed rebuilding plan," ABIR continued.
"It is not for us to opine on what the financial structure or management should be of the airport project, but we do recognize the Government has come forward with a financing plan that avoids additional debt, has protections against troubling cost overruns and follows a model that has been used elsewhere on infrastructure projects.
"After six years of a devastating recession, Bermuda's debt is a serious concern; it seems clear the Government cannot take on much additional debt without imperiling essential services and receiving another sovereign debt rating downgrade.
"Before a decision is made, we understand that the Government will make the required public disclosures as called for under the entrustment agreement with the UK so that Bermuda's voters are afforded a full airing of the financial details.
"With that information in the public domain it should be possible for an informed decision to be made about the airport project and its impact on the Government's finances.
"ABIR represents Bermuda's largest insurance company employers, employing at yearend 2015 more than 1,500 people in Bermuda. We are a significant contributor to the Bermuda economy.
"We are proud that two-thirds of our employees are Bermudian, spouses of Bermudians or PRC holders. Both of Bermuda's political parties have come together to strengthen the regulatory infrastructure and international tax standards that allow us to do business from Bermuda.
"This bipartisan action has put Bermuda on the global map and has created unsurpassed job opportunities for those Bermudians interested in insurance careers. We are hoping the same bipartisan action can be achieved regarding the airport."

Read More About