On Saturday, the second annual 'Walk for An Answer 'for Thrombotic Thrombocytopenia Purpura [TTP] got underway at 8am, with walkers traveling from the Botanical Gardens to Albouys Point and back.
Team Bermuda Gold included friends, family, students and some of their pet dogs joined in and came out to support their colleague Leila Madeiros who was first diagnosed with TTP in 2012.
TTP is a rare autoimmune blood disorder, It is diagnosed at a rate of 3-4 in 1 million people per year. Potentially fatal complications can result from internal blood clotting with damage to critical organs such as the brain, heart and kidneys.
This walk is held annually to raise funds for much needed research to understand TTP in order to develop a more targeted form of treatment and to potentially find a cure.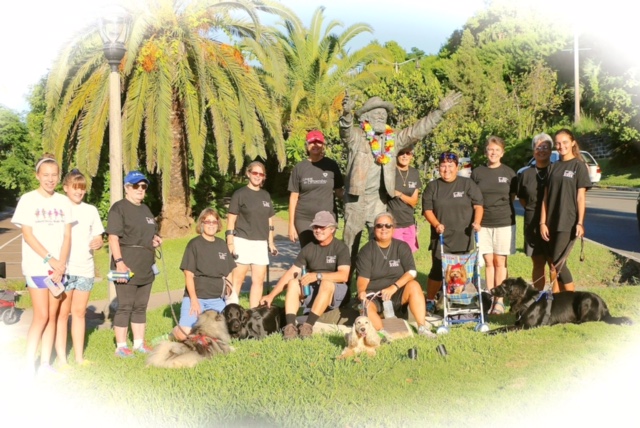 The cause of TTP is not yet known. What is known is that blood becomes "sticky" and forms clots in blood vessels throughout the body. These clots are made up of platelets, one of the elements in blood. Vital blood flow to the body's organs is restricted, placing the organs at risk for damage due to a lack of oxygen and nutrients from the blood.
Moreover, since platelets are being used to form numerous unnecessary blood clots, their availability to perform their normal function, which is to seal injury sites to prevent excess bleeding, is compromised. Therefore life threatening bleeding may occur.
Research has shown that in some cases the ADAMTS 13 enzyme is deficient. This finding can be used to explain blood clotting; however, while ADAMTS 13 enzyme deficiency is found in congenital TTP cases, this is not always true of adult acquired cases of adult TTP. So we know that there is more to the recipe for TTP. Much more research is required!
"I am always humbled and amazed at the generosity and kindness of so many people and thankful for the wonderful people I have met along the way of my TTP journey" says Leila Madeiros. "Living with TTP can be challenging but I am extremely grateful for the love and support that has been shown to me and my family in so many ways and for that I am eternally grateful!"
Anyone interested in donating should visit here.

Read More About
Category: All