Graduates of the second cohort of the Ice House Entrepreneurship Programme received their certificates on Wednesday, 7th September.
Raymond Lambert, Economic Development Officer and Program Co-Facilitator, said: "We are pleased to be able to deliver this internationally certified programme locally to help future entrepreneurs understand the fundamental concepts that help guide successful entrepreneurs."
The next Ice House Entrepreneurship Course will start on Tuesday, September 27 from 6pm to 8:15pm and run for the next consecutive eight Tuesdays until November 15.
This 8-week programme is designed to reveal new opportunities, ignite an entrepreneur's ambition, and foster the skills that will empower anyone to reach new heights as an entrepreneur.
The venue will be at the Department of Workforce Development. Registration is $275 and includes all materials: "Who Owns the Ice House-Eight Life Lessons From An Unlikely Entrepreneur" book; access to the online learning portal, hard copy work book materials and graduation.
This course will be limited to a maximum of 20 participants. To register, email info@bedc.bm or call 292-5570 to reserve your space today. Further information can be found at www.bedc.bm.
Standing [L-R]: Dean Fox, William Spriggs, Derek Smith, Ray Jones, Vanell Ingham, Andrew Fox, Adam Gauntlet and Ray Lambert; Seated [L-R] :Carol Ann Simmons-Carey, Tanisha Stevens and Hattie Armstrong; Missing: Mike Bengson and Kyjuan Smith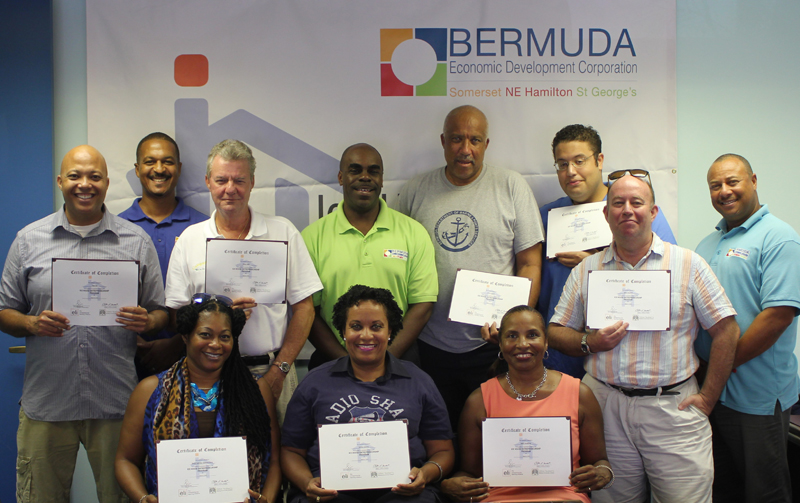 The Bermuda Economic Development Corporation [BEDC], in partnership with the Ewing Marion Kauffman Foundation and The Entrepreneurial Learning Initiative [ELI], have graduated over 30 entrepreneurs from the course to date.
The course will be facilitated by BEDC Economic Development Officers William Spriggs and Ray Lambert who both completed the Facilitator Training Programme at the Entrepreneurial Learning Institute in Kansas City, Missouri.
Course graduate Colina Outerbridge stated, 'The program has helped me to look at my ideas and explore things in a new light and way of thinking, it changed my mindset to start thinking like an Entrepreneur and allowed me to overcome fear and realize this is something that I can do".
Merlyn Symonds commented, 'Extremely helpful course – this information has helped me in my professional and personal life. I have learned soooooo much and the course has opened my mind on how to feel confident and go out and put my thoughts and ideas into reality – thoroughly enjoyed it'
Co-owner of Clear Choice Bermuda Jahnika Alves shared, "Ice House helped focus me and create a clear path forward on a new business idea I have been considering. It was great to connect with other entrepreneurs on a weekly basis. Great course, I wish it was longer".
The Ice House Entrepreneurship Course is an 8-week learning experience inspired by the life story of Pulitzer nominee Clifton Taulbert and the entrepreneurial influence of his Uncle Cleve.
Read More About