Sandys Secondary Middle School students have been participating in the AC Endeavour program this week. AC Endeavour is the youth education, sailing and life skills program for Bermuda middle school students run in conjunction with the America's Cup and Oracle Team USA.
Each Friday during the school term, AC Endeavour 'graduates' spend part of the day with Oracle Team USA, visiting the team base, working out in the team gym with same trainers as the America's Cup sailors and learning about health and nutrition.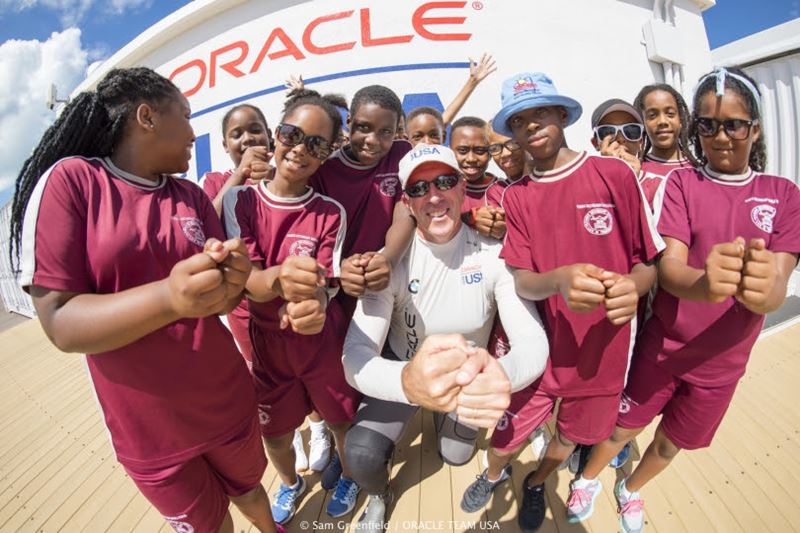 This follows a full week of learning about sailing, teamwork and leadership, as well as academics via the AC Endeavour STEAM [Science, Technology, Engineering, Arts, Math] curriculum.
On Friday afternoon, Bermuda Premier Michael Dunkley was at the Oracle Team USA base, preparing to go sailing for a short time with the team.
He stopped by to check in on the Sandys students, who described the capsize drills as a highlight of the week.
After posing for photos, the Premier asked for sailing tips, before he headed out on the water, and the students went off to finish their week applying their sailing skills on land with a blowkarting session.
"Kids get excited about trying something new and different, so for them to get an understanding of the sport and what it means for the America's Cup to be on the island by coming to the Oracle Team USA base as you circulate all the public schools through the program is great," said Premier Dunkley.
"I was blessed to see the group from Sandys Secondary Middle School here this morning and I had a conversation with them and they were bubbling with excitement for what they'd learned and what they'd done.
"I'm sure that across Bermuda in the kitchens at the dining room tables or at the sporting clubs they will be talking about coming to Oracle Team USA and what they learned and how exciting it is. And that's great for Bermuda."
The M1 students from Sandys Secondary Middle School at Oracle Team USA on Friday were: Chyne Martin, Tashuna Dublin, Stefan Jones, Jashuntae Moore, Nuri Parfitt, Jermaine Richardson, Mason Robinson, Arianna Sabir, Skylah Simmons, Wysdem Symonds, Deandre Williams, Destiny Winters, Kehrehn Smith, Keanu Codvington.
"I was scared before coming here that we would capsize, but it was actually really cool," said Destiny Winters, an M1 student at the school.
"My favorite was sailing on the Hobie. I thought we were just going to learn about sailing, but I didn't know we would get to go out sailing. It was a lot of fun!"

Read More About