The Royal Bermuda Regiment's band is to team up with young musicians for a concert with a dash of Hollywood glamour.
The Bermuda Youth Orchestra [BYO] will next month join forces with military musicians for a concert, the third of its type, featuring the best of music from the silver screen.
And the event will feature something for all ages – from classic James Bond themes to tunes from the Disney children's smash hit Frozen.
Major Dwight Robinson, Director of Music for the RBR and trustee and principal conductor for the BYO, said: "There are so many fringe benefits to this cooperative exercise.
"Simply, it is just great to play and create music, and even more so with like-minded individuals."
He added: "For the orchestra, the concert provides an opportunity for the students to share stands with more seasoned players.
"This gives them a great boost of confidence in their playing ability."
He added that it was hoped that youngsters performing alongside the RBR band would also recognise the option to serve their country as a musician in the Regiment, one of the many roles it has to offer recruits.
Major Robinson said: "The musicians may not be eligible for Crown service for another three or four year in some instances, but as they mature, the relationships with our musicians will have already been established and we will continue to encourage them along.
"On the odd occasion, a student will join the Regiment as a junior musician and we carefully manage their juggling of school and service life. There is mutual benefit; it's a win-win."
The BYO was set up to give the island's musical youth a chance to show off their talents in a larger-scale developmental and performance environment.
The orchestra is open to students from all Bermuda's schools and has a typical annual membership of about 30, ranging in age from about 11 to 19.
The Showtime concert will take place at the Ruth Seaton James Centre for the Performing Arts at CedarBridge Academy on Sunday, November 6, 2016 beginning at 4:30pm.
Tickets are $10 for general admission and $50 for patrons and are available at Music Box in Hamilton, The Royal Bermuda Regiment Band office at Warwick Camp, and from the all Bermuda Youth Orchestra students.
For more information, contact bermudayouthorchestra@gmail.com.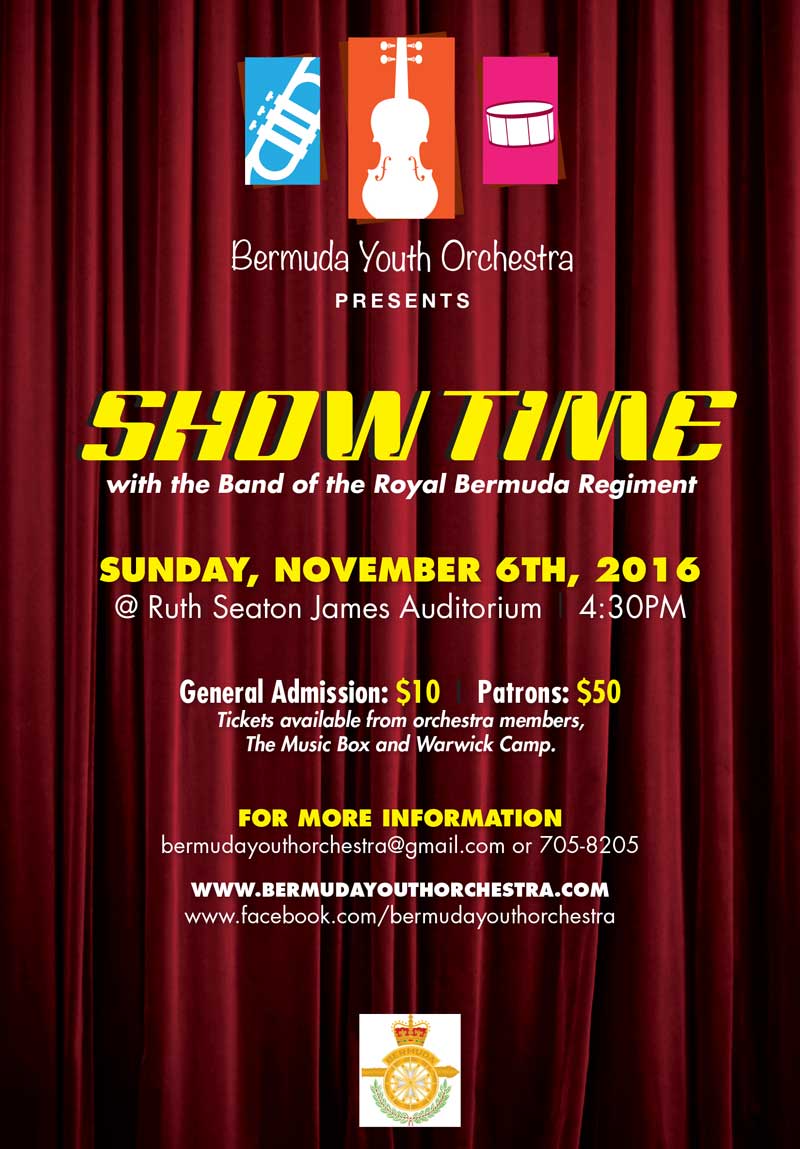 Read More About
Category: All, Entertainment