The Bermuda Rugby Football Union [BRFU] says that it is "extremely grateful" to partner Sol Petroleum, whose financial support as sponsors of the Men's National 7s team has provided new playing kits and helped reduce travel and accommodation costs for the island's representatives at the 2016 Rugby Americas North [RAN] Sevens Tournament in Port-of-Spain, Trinidad on November 12 and 13.
The team includes Tashon DeSilva [captain], Tom Healy [vice captain], Corey Boyce, Somers Brewin, Patrick Calow, Aldo Campbell, Dan Cole, Jacques De Verteuil, Mikel Dill [reserve], Bertie Horsfield, Andre Landy, Antonio Perinchief, and Neville Zuill, with head coach Waisale Serevi, team manager Darren Woods, and physiotherapist Bruno Teixeira.
Drawn against tournament favourites Canada and the British Virgin Islands, Bermuda is expected to qualify for the Cup Quarter-Finals for the third time in a row, where they should face either Mexico or Trinidad & Tobago.
A top three finish will see Bermuda qualify for the prestigious 2017 Hong Kong 7s.
A spokesperson said, "Bermuda finished 7th at the 2014 NACRA 7s tournament in Mexico City after losing the Quarter-Final to Barbados in sudden-death extra time. Improving performances since then include beating Mexico to retain the Shield at the 2015 RugbyTown 7s in Glendale, Colorado and an emphatic win over Kutztown University to take third place at the 2016 Ariel Re 7s on home soil last March.
"Former West Indies player, Tom Healy, who has been Bermuda's Player-Coach for the past four years, will leave the coaching duties in Trinidad to two-time World Cup Winner, Waisale Serevi."
Sol Petroleum's Operations Manager Nick Ball, Tashon De Silva, Jonathan Cassidy, Tom Healy and Waisale Serevi: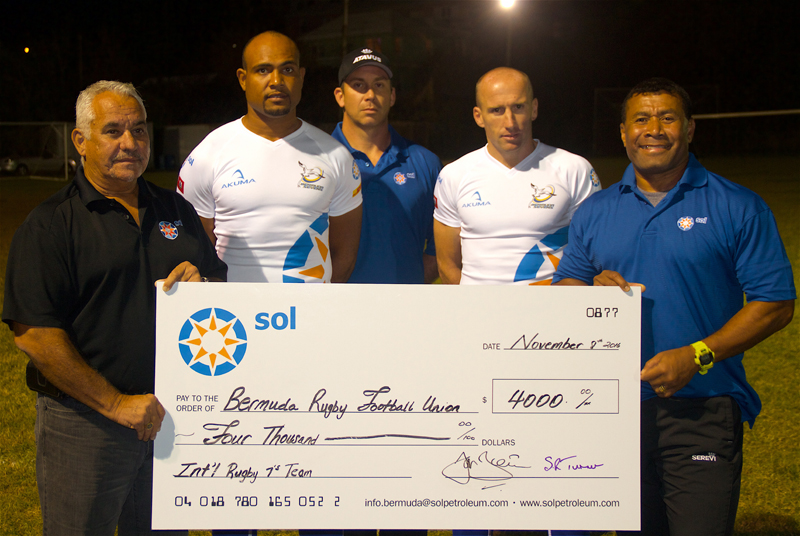 "Serevi, who is regarded as the greatest Sevens player of all time, has helped develop Bermuda's male and female rugby players since 2011 through a partnership sponsored by XL Catlin, which sees the Fijian legend and his team from Atavus Rugby visit the island's schools and National Team Camps three times per year.
"The squad will be Captained by Tashon De Silva, who led the side at the 2014 CAC Games and 2016 RugbyTown 7s.
"Joining the dynamic De Silva in the forwards will be the considerable presence of Aldo Campbell, Patrick Calow, Bertie Horsfield and Somers Brewin.
"Brewin has proven to be a valuable asset in recent years with his tireless support running and determined graft at the breakdowns.
"Fly-half Dan Cole returns for his second regional tournament, after great performances over the past two seasons at the RugbyTown 7s, and the World Rugby Classic with the Lions.
"Antonio Perinchief, Corey Boyce, Andre Landy and 12 year veteran Neville Zuill add genuine speed to the squad, which has too often been lacking in previous Bermuda 7s teams. Landy flies in from Vancouver, where he has been developing into a top class player with UBC Old Boys, notably beating Serevi's Seattle Saracens in the final of the 2016 Vancouver 7s.
"Jacques DeVerteuil, who also represents Bermuda at Volleyball and Squash, played for Bermuda's U19 XV in July after an impressive season with Warwick Academy. DeVertueil is particularly excited to be making his senior Bermuda Rugby debut in Trinidad, in front of friends and family, as his father, Marc, is from Pointe-a-Pierre.
"CedarBridge Academy graduate Mikel Dill made his mark at the 2016 ArielRe 7s, finishing as the tournament's top try scorer including the extra-time winner against Kutztown University in the 3rd/4th play-off game. Dill went on to represent Bermuda's National XV in the 2019 RWC Qualifier against the Bahamas at the end of last season, and will be attending the Stellenbosch Rugby Academy in South Africa next year."

Read More About