Connectech announced that 20 students have received bursaries from LinkBermuda providing them with the opportunity to participate in Connectech's Scratch and Python Coding Classes.
"Connectech wishes to thank LinkBermuda for their continued support of the youth technology program, which also included the provision of five Raspberry Pi mini-computers," the company said.
"This support has assisted those families with financial needs and children in our at-risk communities to be part of an initiative committed to increasing the interest of young Bermudians in technology and Computer Science.
"LinkBermuda provided youngsters interested in technology with opportunities to further their interest by enhancing their knowledge and skills. Elements of the Connectech program include: Coding projects and Ras Pi workshops encouraging students to utilize problem solving skills they have learned to develop innovative technology.
LinkBermuda CEO Julya Hill with students Stephan DeCouto and Declan Reardon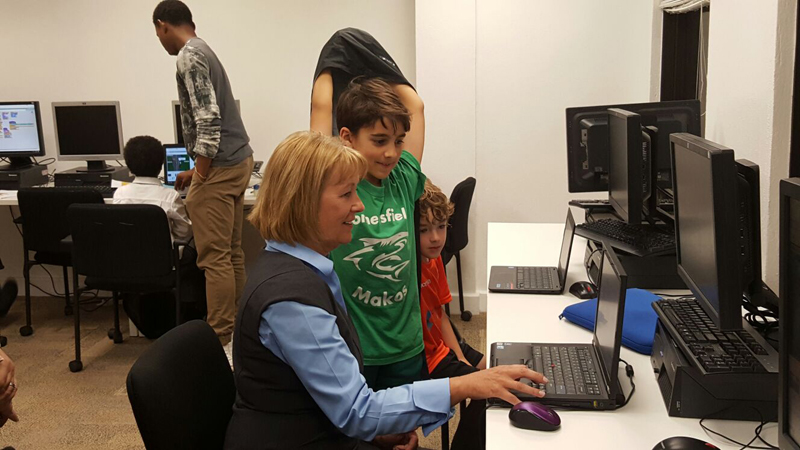 Connectech founder Coral Wells stated: "We're pleased and grateful that an industry leader like LinkBermuda is supporting Connectech's camps and weekly coding classes. This is a great example of what can happen when private industry and learning centres work together toward mutual goals.
"Learning to code empowers young people to do many things they wouldn't otherwise be able to do. Most importantly, they'll be able to understand and become a part of the technology shaping their world."
Julya Hill, CEO of LinkBermuda recently visited Connectech during a coding class where students were given the opportunity to showcase the projects they have created and share what they have learned. Ms Hill was treated to various games, and tech savvy creations by students.
Julya Hill stated: "LinkBermuda is committed to contributing to Bermuda's sustainability, so it makes sense to partner with Connectech and invest in our young people. I was extremely impressed with the quality of the programme, the students and what they had accomplished.
"I got to see firsthand the program focusing on developing entrepreneurial and innovation in technology skills, both of which are part of LinkBermuda's core values and it is wonderful to see the children learning these skills at such a young age. During my visit, I also couldn't help but think that just maybe I have spent time with the next Mark Zuckerberg !!!"
The program has also extended to home schools and other groups allowing these students to integrate a hands-on curriculum built by a community of industry experts into their daily learning routine.
Anyone interested in the program, or looking for support in running any tech-centric initiatives is encouraged to connect with Connectech.

Read More About
Category: All, Business, technology