[Opinion column written by OBA MP Suzann Roberts-Holshouser]
Many people know that I was once a critic of the airport project.
I was resistant to the details of how this unique concept was going to work for Bermuda and how we were going to earn a return. I said as much to my colleagues in the One Bermuda Alliance.
But I'm not the kind of person who will let questions sit around unanswered. When you do that, your imagination tends to make it all worse than it really is. So I went to the man in charge, Finance Minister Bob Richards, and asked him to explain it to me, more than once.
I'm not going to tell you I came away from our conversations with a comprehensive understanding of it all, but I know enough now to feel comfortable in supporting the airport project wholeheartedly.
Like just about all Bermudians, I can see that something urgently needs to be done about the condition of the airport. Quite frankly, it's a mess.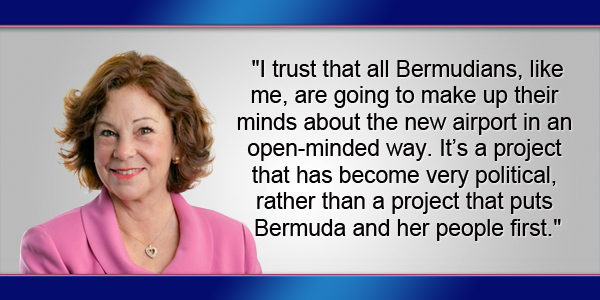 So the question is, should we repair it or replace it?
Again, like just about everybody in this country, I know that things have a shelf life. Whether it's a car, a boat or a facility like the airport, there comes a time when "patchwork" no longer is "cost effective" and as a taxpayer, I want to know that when money is spent, we are not putting good money on bad.
Our airport reached the stage of "no return" some years ago. The experts say so, and most important, the men and women who work there say so.
As the daughter of a man that made his living at the airport, who supported his wife and family of five, I am compelled to ask myself, would it be acceptable to want my father working in such an environment as the airport stands today?
This leads to the next question: Do those individuals who live in my constituency and who work at the airport not deserve to work in a healthy work environment as my father did? As a legislator, the answer is not difficult. It is my responsibility to do the best I can to work for them and to try to make their lives easier and better.
So I went to talk to them. I went around the airport with them. Listen, Bermuda, these individuals, our family members, friends, neighbours, work in conditions that you and I would do anything to avoid. Dampness, mould, constantly having to clean up one crisis after another and on some days the smell of sewage permeating in the air can be stifling. They deserve better, and the faster the better.
We delayed the opening of Parliament due to "mould" in a room that we sit in for only a fraction of a year in comparison to the hours spent 365 days a year for those working at the airport.
That, for me, is a key fact. We must do the right thing by those airport workers.
There are other things that helped change my mind. I understand the financing much better than I did. I was surprised to learn, for example, that when the airport operation begins to turn a profit, Bermuda shares in that profit.
Like others in the OBA, I have confidence that Bermuda's tourism has turned a corner, and that although it may not be a straight line of growth [see, I'm learning the lingo!] as long as we continue to work together, it is going to generally trend upwards for the foreseeable future, so profit-sharing is a safe bet.
Here's another big plus in my mind. The economic activity that is going to be generated, not just by the building of the airport, but by the operation and the maintenance of it in the future is going to benefit the East End of the Island, which has difficulty these days keeping up with the prosperity of the Central and Western Parishes.
My constituents, and the good citizens of the rest of the East End, are going to be able to find jobs in the construction of the new airport terminal. They're going to be able to find jobs in the operation of the new facility. They're going to be able to be trained in skills that aren't now available in Bermuda. East End landlords are going to benefit. East End businesses are going to benefit. East End craftsmen are going to benefit.
In all, I believe this new airport terminal is going to benefit our country in a big way. The way it's being financed is creative and guarantees that we're going to be able to avoid the overruns and delays that have plagued big projects in Bermuda before. It is paid for by airport users, not taxpayers, and it has been endorsed by people who know what they're talking about.
I trust that all Bermudians, like me, are going to make up their minds about the new airport in an open-minded way. It's a project that has become very political, rather than a project that puts Bermuda and her people first.
Politics is not a good reason for us to turn our noses up at a project that ensures our friends, relatives and neighbours work in a healthy environment as my father did.
- Suzann Roberts-Holshouser

20 Most Recent Opinion Columns

Opinion columns reflect the views of the writer, and not those of Bernews Ltd. To submit an Opinion Column/Letter to the Editor, please email info@bernews.com. Bernews welcomes submissions, and while there are no length restrictions, all columns must be signed by the writer's real name.
-


Read More About