[Opinion column written by Diallo Rabain]
"In keeping with our promise to create jobs for Bermudians, the Government is working closely with Aecon to prepare tendering packages for contractor and subcontractor bids for work scheduled to begin in the new year. These will be announced shortly, and Bermudian workers and contractors are encouraged to step forward to take advantage of the opportunities" – Premier Michael Dunkley Statement of Oct 7, 2016
Since the beginning, the One Bermuda Alliance Government has consistently used the promise of jobs for our unemployed construction workers as a major reason to support the untendered airport deal.
Four years into their term, in an insult to hard-working and skilled Bermudians, the OBA's plan to create a handful of construction jobs is an abysmal failure to make good on their 2,000 new-job election promise. Not only are they nowhere near to creating 2,000 jobs, there are less jobs now than in 2012. These promises have turned up empty.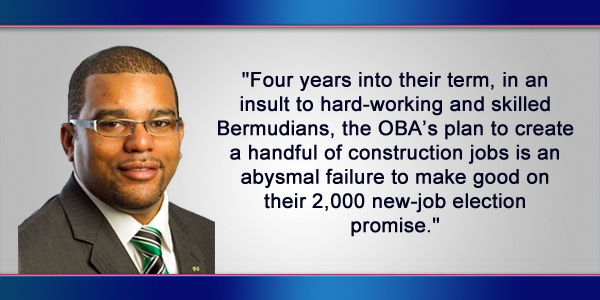 Construction related jobs are declining, not rising. The Bermuda Employment brief, issued annually by The Department of Statistics, recorded 2,257 construction jobs in 2012, 2,143 jobs in 2013, 1,925 jobs in 2014 and 1,928 jobs in 2015. That means 336 construction jobs have been lost between 2012 and 2015 in a near 15% decline.
Using the position of 'Creating Construction Jobs,' to promote the airport deal is strategically well-placed, but it is built upon a shaky foundation. The weakness of this false positioning is revealed when we look at further statistics.
In response to my parliamentary questions addressed to the Minister of Home Affairs, it was revealed that work permits issued in the construction fields [masons, electricians, plumbers, carpenters, tilers and dry-wallers] numbered 844 in 4 years; 153 in 2013, 113 in 2014, 256 in 2015 and 322 in 2016.
Yes, 844 work permits issued in a category that our Annual Employment briefs show have been in decline for Bermudians since 2012. The numbers speak for themselves. Not only have actual construction jobs declined, the jobs that have become available have gone to foreign work permit holders and not Bermudians.
Many questions remain unanswered, such as where are all these permit holders working and do any of these 844 permits represent jobs Bermudians are more than able and willing to do?
What is the OBA government doing to guarantee that Bermudians have a fair chance at those existing construction jobs that are have been filled by holders of the 844 work permits issued since 2013?
The OBA is trying to justify their untendered airport deal with a Canadian company by promising to create construction jobs for Bermudians, but won't address the indisputable fact that, as these industry work permit approvals increase, jobs for Bermudians decrease.
So, is the OBA really working for you, Mr. and Mrs. Bermuda?
- Diallo Rabain

20 Most Recent Opinion Columns

Opinion columns reflect the views of the writer, and not those of Bernews Ltd. To submit an Opinion Column/Letter to the Editor, please email info@bernews.com. Bernews welcomes submissions, and while there are no length restrictions, all columns must be signed by the writer's real name.
-


Read More About
Category: All