"The Bermuda [re]insurance market remains viable in the face of declining profitability despite challenging market conditions and increased potential political threats from the U.S," Fitch Ratings said.
"Bermuda's reputation for a strong and efficient regulatory framework benefits the island's [re]insurance market," said Brian Schneider, senior director, Fitch Ratings.
"However, the new Trump administration and Congressional shift in public policy in favor of the U.S. combined with a lower corporate tax rate could reduce Bermuda's market benefits."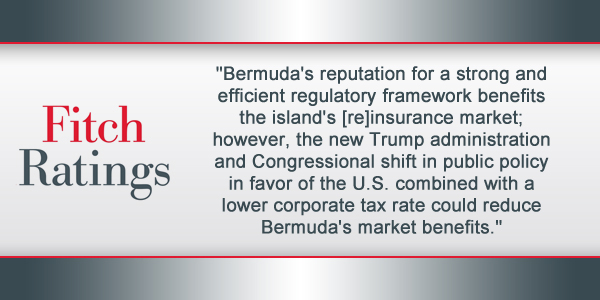 "The Bermuda [re]insurance market experienced heightened M&A activity in 2016 amidst a softening market that reshaped the landscape for 2017," according to a new report from Fitch Ratings.
"Bermuda [re]insurers are a popular acquisition target for foreign companies seeking to diversify, and M&A activity for Bermuda [re]insurers continued in 2016 to combat reduced growth activities," Fitch said.
"Fitch expects M&A activity will likely continue in 2017 as companies face limited organic growth options and desire enhanced scale and diversification.
"Large [re]insurers with operations in Bermuda will report weakening full-year 2016 underwriting results. The 2016 GAAP combined ratio for the group of 11 [re]insurers that Fitch Ratings actively follows will approximate 94%.
"Fourth-quarter losses from Hurricane Matthew will add about 2.5 points to the full-year combined ratio. This result is deterioration from 88.0% in 2015 due to higher catastrophe losses and reduced favorable prior-year reserve development.
"In addition to heightened M&A activity, Bermuda continues to attract start-up [re]insurers. Most of these new entities are partnerships with more established Bermuda players, which should prove beneficial in navigating the overall challenging market conditions and improve their chances of ultimate success.
"Development of a future wave of start-up, free-standing [re]insurers, similar to past instances following market events, appears highly unlikely in the current market."
"At the key January 2017 reinsurance renewal season, property catastrophe rates were generally down mid-single digits as capacity remains abundant with record capital levels from both the traditional and alternative reinsurance markets."
"Overall, the softening [re]insurance market continues due to record capacity levels and sluggish demand from reinsurance buyers, despite increased catastrophe losses in 2016. Fitch expects pricing conditions to remain challenging throughout 2017," added Mr Schneider.
The "Bermuda 2017 Market Update" report is available at fitchratings.com.
Read More About