The BLDC will be hosting a public meeting on Thursday [April 27] from 6.15pm to 8.00pm at Clearwater Middle School.
A spokesperson said, "The Bermuda Land Development Company Limited [BLDC] is holding a public consultation meeting and encourages everyone, especially residents of the St. David's community, to attend. This will be your opportunity to learn about and share your input on the community development plans at Southside, including proposed options for the vacant lot opposite from the old St. David's Post Office building.
Date: April 27, 2017 [Thursday]
Time: 6:15pm to 8pm
Venue: Clearwater Middle School Gymnasium
"Visuals will be displayed during the meeting to illustrate these proposals, as well as other business, industrial, tourism and transportation opportunities in Southside. In attendance will be representatives from BLDC and OBMI who will be happy to answer your questions about the various proposals and opportunities.
"A survey will be available for your feedback and suggestions. Your comments are welcome and important, as it will help the BLDC determine the right types of development for the Southside, St. David's community. If you are unable to attend the meeting, the survey and meeting visuals will be posted on the BLDC website [www.bldc.bm] from April 28th until May 12th, 2017.
"For more information, please email info@bldc.bm or call [441]293-5712."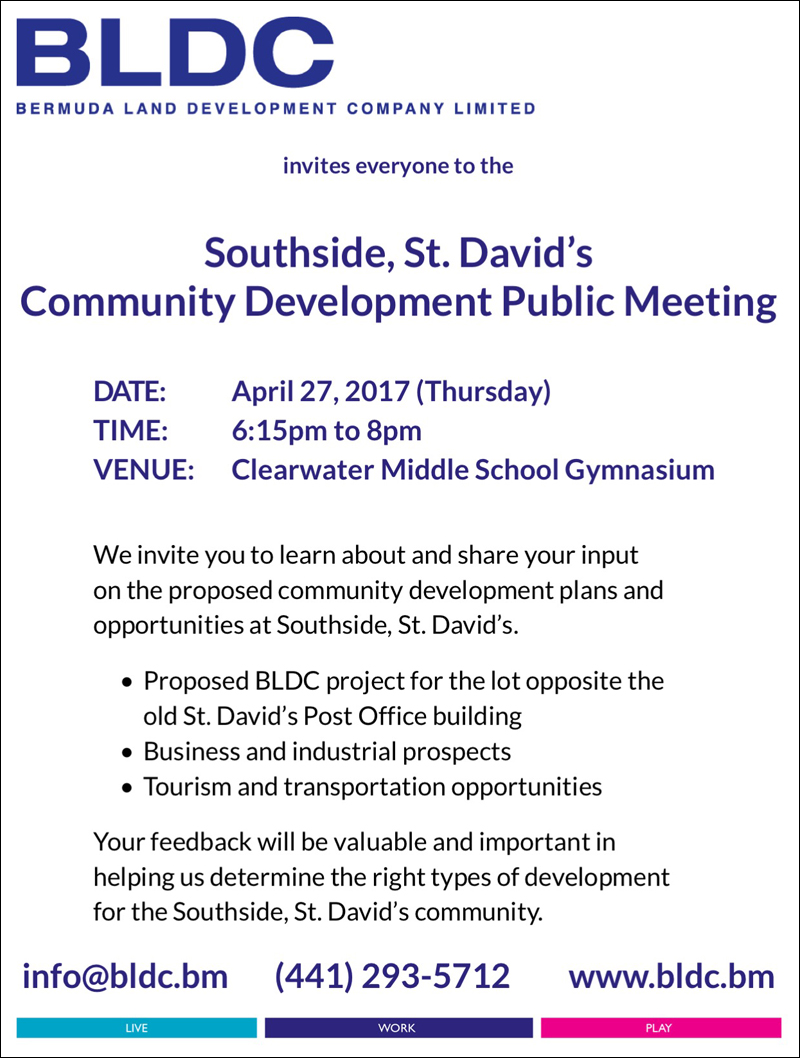 Read More About