Long serving members of the Bermuda Scout Association, Stephen Barton and Michael Smith were the recipients of the Award for Merit.
The Award for Merit is given for outstanding service of no less than 12 years, 10 of which must be exceptional. It implies keen, conscientious, imaginative and dedicated service over a sustained period.
The Governor, Michael Smith, Stephen Barton and Geoff Rothwell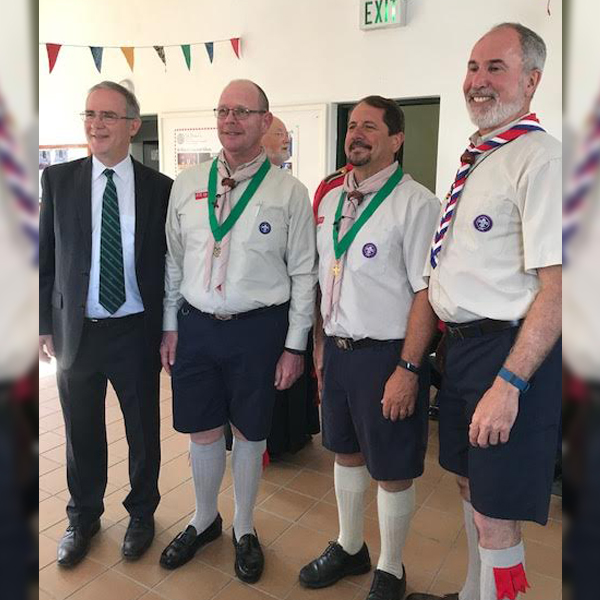 Decided by the awards board of The Scout Association, based in the United Kingdom, each award recipient must be proposed and reviewed before they can be deemed eligible for the award.
Chief Commissioner of Scouts, Geoff Rothwell and Tim Smith, leader of the 19th Bermuda Cub Scouts, proposed Mr. Barton and Mr. Smith for their awards.
Of the long serving volunteers, Mr. Smith remarked "Stephen has been involved with cub scouts for 14 years. He started volunteering with us in 2002 when his son Nick started cubs, and has continued to work with our young cub scouts showing his value through his work ethic, commitment and extensive knowledge of all things flora and fauna. His expertise in IT has helped us to keep up with our administrative duties, and he is a valuable asset to the Scouting community".
Dr. Rothwell continued, "Michael's volunteer work with the Scout Association of Bermuda has been key to our development. While he originally began working alongside with 19th Bermuda Cub Scouts, he transitioned to working with the 22nd Bermuda Scouts and was the driving force in resurrecting the 19th Bermuda Scouts, which has become the most successful scout group on the island.
"Michael was also instrumental in the 2015 creation of the 1st Bermuda Explorers. In addition to his work in developing our Scout Association, Michael has served as our legal advisor, to ensure that we are consistently on the right side of the law."
Read More About
Category: All