[Updating] Teachers are currently gathered on the grounds of the Cabinet Building in Hamilton, with this gathering following after the Bermuda Union of Teachers [BUT] held an "Emergency Membership Meeting" this morning. We will update with further information as able.
Update 11.15am: They are now marching through town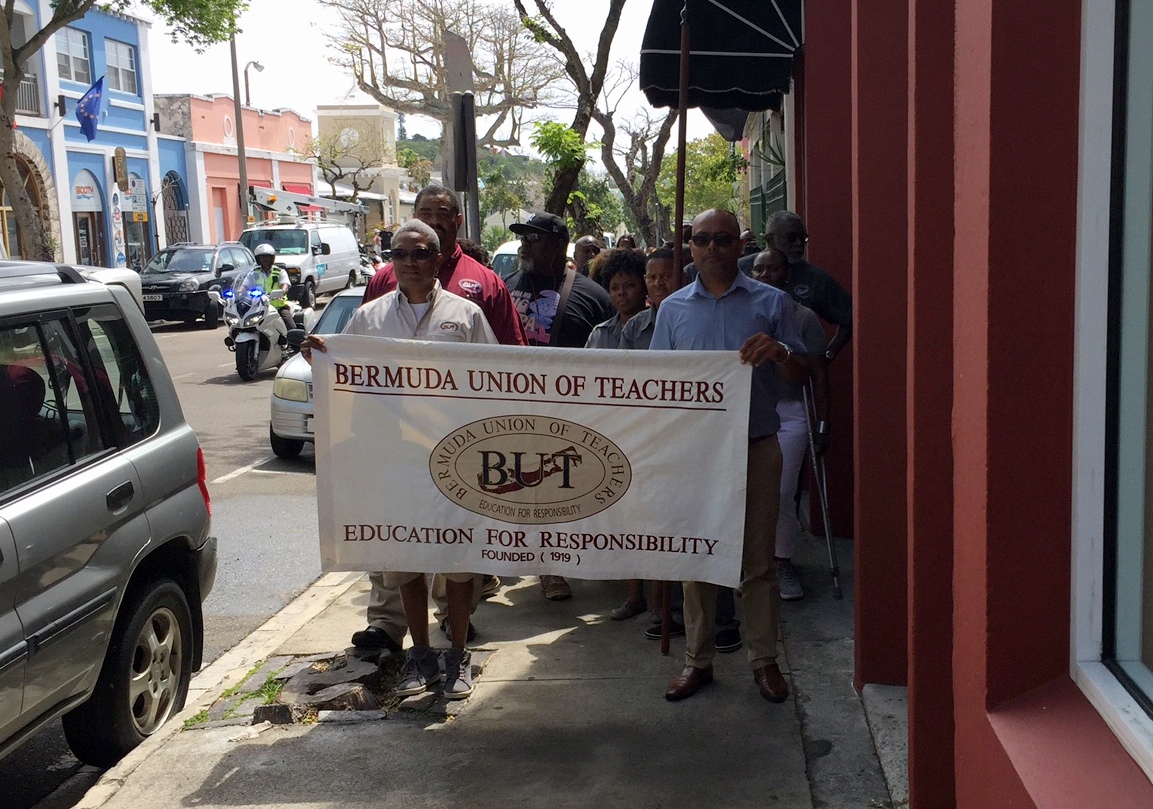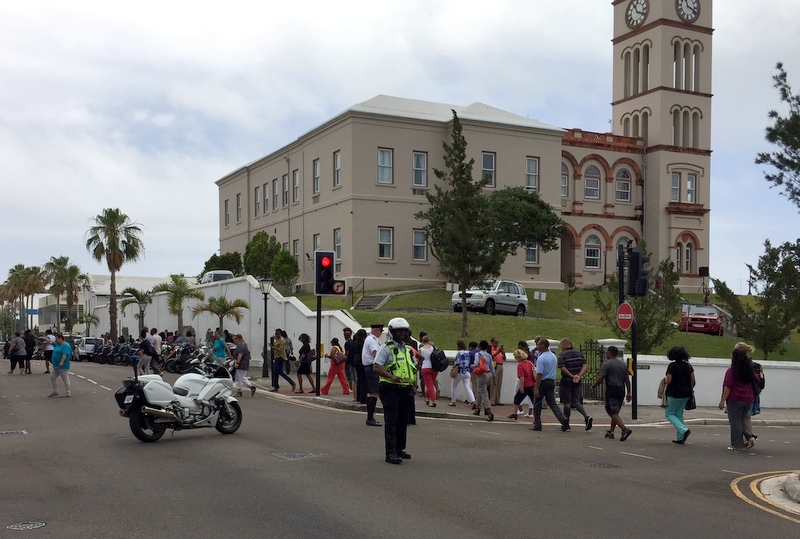 Update 11.31am: Audio comments from the BUT's Shannon James
Speaking at this morning's gathering, Mr James told Bernews, "The teachers met this morning over negotiations or lack thereof. We have been negotiating since January, but there has been some sort of breakdown in the process.
"We have yet to agree to anything. We're trying to figure out why our concerns, according to our CBA, have not been addressed."
"We've come to the table in good faith but this good faith has not been returned. We do have the team that we've been meeting with, they've been trying their hardest to ensure that negotiations go well."
Update 4.30pm: PLP Spokesperson for Education Diallo Rabain said, "In the OBA's Bermuda, neglect of our public schools, disrespect for our teachers and ignoring the safety of our students has, unfortunately, become the norm. Today's protest may have come as a surprise to the OBA, but for the rest of Bermuda this latest protest was inevitable.
"It is difficult to tell the people trusted to educate and protect our children that there is no money for the basic necessities to ensure them a quality education because Bermuda is broke. However, the reality is that money is seemingly endless for the OBA when it comes to the America's Cup and other projects that they deem to be more important.
"Bermuda can do better and it will do better when we have a government that cares and invests in all of Bermuda."
"However, there have been a lot of questions that haven't been answered."
Photos by Anthony Wade:
.
Update 5.32pm: Minister of Education Cole Simons today met with members of the Executive of the Bermuda Union of Teachers [BUT], Trustees and teacher representatives from primary, middle and senior schools to discuss their concerns following a protest by BUT members this morning on the grounds of the Cabinet Office.
The Ministry said, "Minister Simons first learned of the protest action around 10:00am this morning and immediately asked for a meeting with the BUT Executive and all those gather on the grounds but was advised by the BUT President to meet with the Executive at their Union Headquarters. Minister met with the group within 20 minutes of their invitation."
Minister Simons said "It was important for me as Minister to hear the concerns of the teachers and determine what can be done to address the concerns. Hence, I made myself available on short notice to attend the meeting, which got underway around midday and lasted for about an hour or so."
"The main concern that was expressed to me by the BUT was the lack of substantial progress in the contract negotiations between the BUT and the Public Service Negotiating Team [PSNT]. The BUT indicated that there has not been any meaningful progress since the last meeting between the two sides during the third week of March 2017."
"Although I am not involved in contract negotiations, I undertook to update the Premier on the BUT's concerns so that it could be determined why no meeting has occurred between the two sides since March. It is important and in everyone's interest that we get negotiations back on track, especially since I consider that our teachers are our number one asset."
Read More About