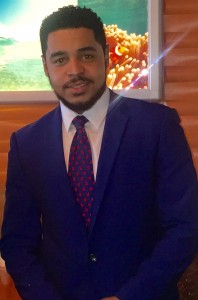 [Opinion column written by Eron Hill]
'This Government stands very proudly on our record' - Premier Michael Dunkley – 20th May 2017
It would appear that Premier Dunkley is impressed with his administration's own magic and appears to believe that such rhetoric represents the reality for all Bermudians. Surely, some high order magic must've been involved in coming to that conclusion. The magic of self-deception is a very powerful magic indeed! As we all know, magic does not require rational explanation but only a willingness and I dare say a desire to believe.
This article does not intend [nor would the page have enough space] to address the entire panoply of failures and broken promises of the OBA government. Instead, this article will specifically address the One Bermuda Alliance's failure to implement absentee voting for Bermudian students overseas.
The first promise by the One Bermuda Alliance for absentee ballots for students came in the 2011 throne speech reply, and has been repeated every year since. In the 2011 throne speech reply, the OBA promised that it would 'immediately overhaul the Parliamentary Elections Act to allow absentee ballots to students living abroad'.
In 2012, then OBA leader, Mr. Craig Cannonier in 2012 declared that the OBA could get the job done with ease: 'There will be no difficulty in adopting a system whereby absentee ballots are made available to students who are on the voters list'. – November 12th 2012, statement published on oba.bm
Nearly four years later and the OBA had yet to implement any absentee voting legislation but they reiterated their promise by undertaking to have the absentee ballot legislation tabled during the new legislative session.
In January 2016, when announcing that government had no intention to extend the absentee ballot to Bermudians permanently residing overseas, then Minister of Home Affairs, Senator Michael Fahy professed: "We have given the opportunity to students studying abroad and that is a good move and a good start."
It remains unclear whether Senator Fahy was imagining this or if he was attempting to draw on the laws of attraction and 'speak it into existence', or if in fact he was just confused because it remains an undeniable fact that despite countless promises over the past six years, there has been no legislation tabled with respect to absentee balloting by the One Bermuda Alliance government.
It would appear however that the confusion isn't restricted to Senator Fahy; even our Attorney General is unsure.
At the Generation Next youth town hall meeting on June 22nd 2016, when discussing the long awaited amendments to the Parliamentary Election Act, Mr. Moniz admitted: 'I don't know how close we are at this point.'
Six years later, on the heels of yet another general election, not one piece of legislation has been tabled in the House of Assembly by the One Bermuda Alliance government to allow for absentee voting for our island's overseas students.
The One Bermuda Alliance's failure to implement absentee ballots for Bermudian overseas students drives a horse and carriage through their purported mantra of 'inclusiveness' and it speaks volumes of their willingness to neglect and further disenfranchise young Bermudians who are overseas and will be unable to return simply to vote.
Indeed, it is true that former administrations had the opportunity to implement this legislation- I believe that they could have, they should have, and it remains a fact that they did not. This is not, nor has it ever been, or could it ever be an excuse for the OBA government's failure to adhere to the promises made to Bermudians.
Whilst I appreciate it will be a hard pill to swallow for some, this is an OBA report card- the OBA made the promises, the OBA have been government for 5 years, and the OBA have failed to do what they said- simple as that!
$77 million-dollar budget allocated for the Americas Cup – OBA approved
$39 million-dollar for Cross Island/Americas Cup Village- OBA approved
Some 1.5 million-dollars spent for a Commission of Inquiry – OBA approved
$350,000 budget on a non-binding referendum – OBA approved
Millions of tax-payer dollars continue to be spent to pursue baseless and seemingly endless investigations/civil suits of former and current leaders – OBA approved
$31,566 for Minister Sylvan Richard's 9-day trip – OBA approved
Undoubtedly, many will attempt to justify these expenses. However, can you, after 5 years justify the OBA's neglect to ensure that Bermudian students overseas have the opportunity to exercise their right to vote? After all, the youth of today are the leaders of tomorrow!
It is often said that decisions are made in the interest of the future of Bermuda and young Bermudians. If that's truly going to be the case, it vitally important that we feel a part of and are able to contribute to the process. The next government of Bermuda needs to implement this legislation in the first legislative session- nothing short of this will do.
- Eron Hill

20 Most Recent Opinion Columns

Opinion columns reflect the views of the writer, and not those of Bernews Ltd. To submit an Opinion Column/Letter to the Editor, please email info@bernews.com. Bernews welcomes submissions, and while there are no length restrictions, all columns must be signed by the writer's real name.
-
Read More About
Category: All