[Opinion column written by Eron Hill]
Julie Andrews once famously said "Sometimes opportunities float right past your nose. Work hard, apply yourself, and be ready. When an opportunity comes you can grab it."
For us here in Bermuda, an enormous opportunity for the island is quite literally floating to us; yes by that I mean the Americas Cup. A recent poll released to the media suggested that '68% of voters felt that the economic benefits of the America's Cup would go to a select few.'
Notwithstanding the political hype, the public perception and recent polls I found it imperative to do some independent research so I could draw my own conclusion; and the reality is as an island, we can lose big, or we can win big, the choice is ours.
I had the pleasure of speaking with world renowned sailor, keynote speaker, author, and global investor Neal Petersen whilst he was on island. He loves Bermuda and has been coming here for twenty years; Neal is black and grew up in South Africa under apartheid, so appreciates the mental toughness of Bermudians and the way we keep things working.  He and I sat and talked on his yacht for hours.  Among the topics that arose was the Americas Cup.
I listened attentively as this great seaman delved into his experiences and let me dip into his knowledge of sailing and sailors.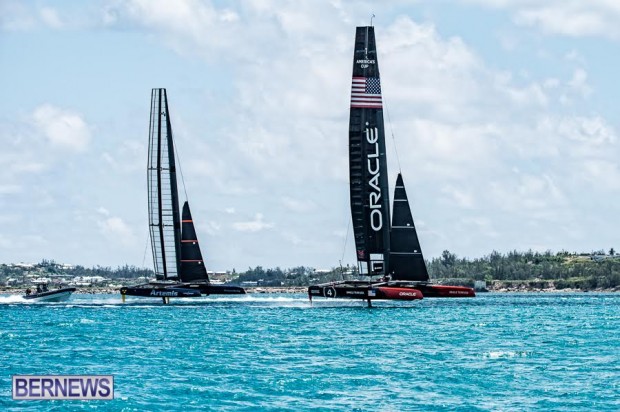 Attitude Changes
Like I said, Neal loves Bermuda but he was a bit glum about some of his experiences. The story was shared to me about how Neal and a few friends went to a coffee shop where they refused to put the coffee in a different cup as asked by the customer, and were treated with less than friendly customer service.
Things such as this that seem so small are things that turn off those that visit our island home. Our greatest asset as an island is our people, our service, and our friendly spirit.
If the America's Cup is to be a success we all must play a part in ensuring that we treat each other, and our visitors with the Bermudian hospitality that our visitors have come to know, love and expect.
If we do that, these sailors, these wealthy sailors, will be the backbone of a new generation of tourists who grow a relationship with Bermuda and come back year after year.  After all, Bermuda will host one of the huge experiences of their lives – talk about home court advantage!
Marine Changes
Currently, Bermuda does not have the marine infrastructure to accommodate tall ships, and the yachts the America's Cup will attract. When Neal and I were talking we noticed a tall ship that was docked along a wall in St. Georges' Harbor.
Realistically, if two other ships of that size wanted to berth they couldn't, simply because the current setup doesn't allow for it. In preparation for the America's Cup loads of infrastructure will be built.
The good news is that after the America's Cup, that infrastructure will still be there and Bermuda can easily be the best and most attractive option for tall ships and passing vessels to berth, and to spend time and dollars.
Educational Aspect
I was extremely pleased to hear that Bermuda will be entering a team into the Red Bull Youth America's Cup. I think this is an enormous opportunity for all young people and I encourage all young people who are interested to take part in the trials on August 8th this year.
I was especially pleased to hear about the America's Cup initiative that saw several key players teaming up in the marine industry to launch a Community Sailing Project. Alongside that, I would advise government to negotiate with the America's Cup to implement this in all public schools.
Think about it – our young people could learn from the world's best sailors while increasing the popularity of sailing amongst young Bermudians ahead of the America's Cup.
These men and women who are coming from all over the world to participate in the America's Cup have a wealth of knowledge about the sport and I surely they can be persuaded to see the value of sharing some of that knowledge with our young people.   And that's before we talk about Bermuda's pilots and pirates, the Bermuda sloop and all the history of Bermudians being great sailors.
How Will The America's Cup Benefit Me?
The poll I mentioned says two third of Bermudians see the America's Cup as just being this one-time event and don't believe it is the panacea that the government makes it out to be. The question that is being asked across the island is "How will the America's Cup Benefit Me?"
Will the average Bermudian like you and I directly benefit from the America's Cup or are the benefits restricted to a certain class of people, businesses' or organizations? For sure, the benefits are there and equally for sure, I expect they will go first and foremost to whoever makes the effort to harvest them and last and least to those who ignore the opportunity.
I think government should set up an online register of all potential America's Cup contracts over $5,000 it is awarding, along with details of how and when to bid. Then anyone can compete and all see the value of focusing on this.
In fairness, I think there should also be an online report afterwards of where the contracts went so that fairness can be both served and be seen to be served in the eye of the people.
-Eron Hill

20 Most Recent Opinion Columns

Opinion columns reflect the views of the writer, and not those of Bernews Ltd. To submit an Opinion Column/Letter to the Editor, please email info@bernews.com. Bernews welcomes submissions, and while there are no length restrictions, all columns must be signed by the writer's real name.
-

Read More About