[Opinion column written by Hugh Dugan]
What's coming up on Thursday? Two great events. In Bermuda, it's the America's Cup Challenger Playoff semifinals. Around the world, it's World Oceans Day. What a great coincidence.
World Oceans Day is an annual celebration held on June 8 to understand and celebrate the Earth's oceans for the long term. Started in 2002 by a civic group The Ocean Project, World Oceans Day was recognized by the United Nations in 2008 [see #SaveOurOcean].
From our perspective, what would the America's Cup be without oceans? It wouldn't exist at all.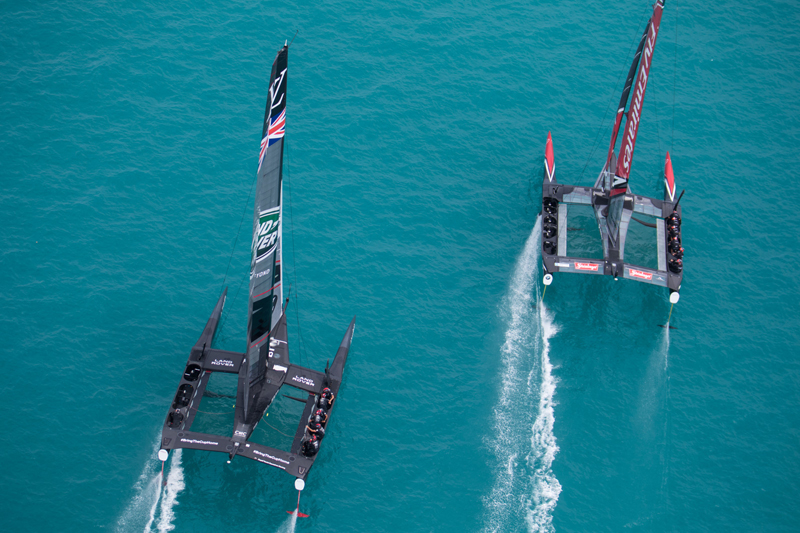 Not only do oceans host the races, they are the watery highways for the transit of teams and crafts. AC competitors were required to sail on their competition hulls to the contest until the 1980s, and now freighters bring the goods. In either instance, oceans have provided open passage for all and therefore must be respected, protected, and defended as shared global commons.
So, what better way to recognize and celebrate the world's oceans than to race high-tech crafts on them for a global television audience to enjoy? This year the America's Cup Class "formula one" boats provide the technological wow factor. Equally mesmerizing, Bermuda's pristine waters in the middle of the Atlantic showcase the global significance of ocean conservation and of consistently good environmental stewardship.
It must be stated that sail racing on the blue may be the greenest sport of all. The less the boats impact the ocean, the better the result for the teams, but no less for the ocean.
For the teams, "less impact" means less actual contact and drag against the ocean's surface. Last week, for the first time in AC competition, boats reached 100% fly-time on slender foils in lieu of their bulky hulls, logging results out of science fiction. [Our J-class ancestors could not have possibly fathomed how hulls that do not touch the ocean's water nevertheless could win races.]
For the ocean, "less impact" results from boats powered by clean and renewable energy, namely, wind and human muscle. Less impact also results from the AC's recent, first-ever "Sustainability Charter" for positive action.
All AC35 teams committed to its ten-point action plan for [1] eliminating single-use plastics, [2] reusing and recycling, [3] conserving water, [4] avoiding water pollution, [5] reducing carbon impact from energy, [6] protecting marine habitats, [7] being diverse and inclusive, [8] supporting the local economy, [9] communicating a positive example, and [10] identifying "sustainability champions" within the AC35 teams. AC35 follow-through is speaking even louder than their words, and we all look forward to progress reports.
Challenger Land Rover BAR is one of the four greenest sports teams in the world, according to GreenSportsBlog, and it has inspired others to follow suit. Indeed, the AC Endeavour youth sailing program is among those. It has a base "off the grid" with solar panels, solar showers, and a community garden.
While cleaning beaches, the youth are tracking marine debris into a global database for ocean monitoring. Also following suit are Bermudian environmental stalwarts such as Keep Bermuda Beautiful, Bermuda Institute of Ocean Sciences, Bermuda Underwater Exploration Institute, and Greenrock which support Endeavour, including its STEM educational program.
Bravo to AC35 in setting an example for the world of a minimal-impact, environmentally responsible mega-sport event. Instead of deadened waterways or decrepit stadiums, its legacy will be solar panels and environmentalism in action. AC35 is teaching the world that minimizing one's carbon-fiber hullprint is in fact the way to victory – in racing, for our oceans, and through life.
AC35 is showing the world that minimizing one's carbon-fiber hullprint is in fact the way to victory – in racing, for our oceans, and through life.
Since Bermuda is on everyone's chart right now, let's coordinate it with another island, Manhattan, where world leaders at the United Nations World Oceans Conference [June 5-9] are discussing how to #SaveOurOcean.
At the UN, each country will announce its voluntary commitments for conserving and using the oceans, seas, and marine resources for long-term growth. What is our role back home? It is up to us to support those commitments and to hold our officials accountable for their realization.
The UN's premise is that oceans sustain marine life and our own – connecting us across the world, providing sustenance, transport, economies, livelihoods. Meanwhile, Illegal fishing threatens species, sustenance, and economies worldwide; pollution in the form of chemical run-off, spills, plastics and more damages and destroys marine life and enters our food chain, and climate change is killing our coral reefs, flooding human and animal habitats and feeding a disastrous feedback loop of destructive fluctuating temperatures.
School children Melati Wijsen and her sister Isabel will tell UN diplomats about ocean stewardship. They founded Bye Bye Plastic Bags in 2013 with the mission to stop plastic bags from suffocating their beautiful island home of Bali.
Their efforts — including petitions, beach cleanups, even a hunger strike — paid off when they convinced their governor to commit to a plastic bag-free Bali by 2018. According to reports, it has grown to a well-known international movement of inspiration, youth empowerment, and of course, saying no to plastic bags.
Finally, a new tribute to the ocean from a famous sailor comes in the soon-to-be-released book "Sea Power: The History and Geopolitics of the World's Oceans".
Its author, US Naval Admiral [ret.] James Stavridis, the only admiral to serve as Supreme Allied Commander of NATO, writes that "the sea is one," noting that every ocean is connected to the others. Ninety-five percent of all trade goods move on the ocean, he states. And the oceans' health is crucial to the environment and humanity's food sources. His book sets sail as both AC35 and the UN set more courses for responsible ocean stewardship.
So, in the spirit of World Oceans Day, one could say that AC35 has taken the lead in greening the blue-water sport. It expects that the race's environmental impact indeed will be a wash. As for respecting the ocean, Bermuda and the Auld Mug are as together as aqua and marine.
So, let's all celebrate on June 8. How exactly? By supporting AC35's legacy program for Bermuda's environmental future. And let's continue to love our ocean. It hosts the Cup's foils and its fireworks dancing together across its diamond-glinted waters. More importantly, the ocean hosts life on earth and therefore the future of humanity.
Hugh Dugan served as U.S. Consul in Bermuda and is a frequent visitor. While serving as U.S. Diplomat to the United Nations he negotiated the UN decision to support World Oceans Day.

20 Most Recent Opinion Columns

Opinion columns reflect the views of the writer, and not those of Bernews Ltd. To submit an Opinion Column/Letter to the Editor, please email info@bernews.com. Bernews welcomes submissions, and while there are no length restrictions, all columns must be signed by the writer's real name.
-

Read More About
Category: All