According to an online advertisement being run by the One Bermuda Alliance on Youtube, Fabian Minors will be their candidate for Constituency #13 Devonshire North Central, a seat currently held by the PLP's Diallo Rabain who won the seat in a 2016 by-election.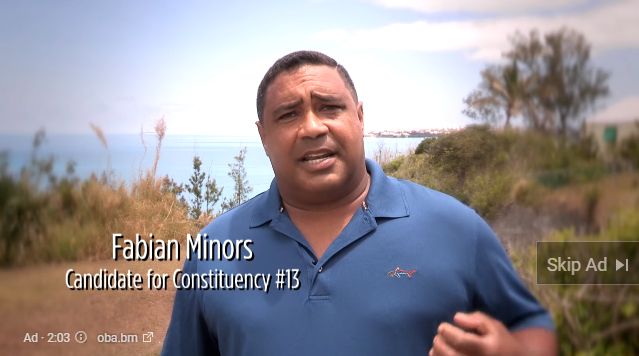 The 2016 by-election was prompted by the retirement of PLP MP Glenn Blakeney, and saw Mr Rabain win 461 votes, while the OBA's Andrew Simons received 351 votes.
In the 2012 General Election, Mr Blakeney defeated the OBA's C. Anthony Francis by a margin of 19 votes, winning 51.18% of the vote [411 votes], while Mr Francis won 48.82% of the vote [392 votes].
In the 2007 General Election, Mr Blakeney won 53.52% of the vote vs the UBP's Albertha Waite, and in the 2003 General Election Mr Blakeney won 57.22% of the vote vs the UBP's Hilary Soares.
Elections held prior to 2003 were held under a different system than we have now, with constituencies electing two MPs, and since the one MP system was implemented, Devonshire North Central has elected a PLP MP on all four times they went to the polls.
The previously announced confirmed candidates for the July 18th election are:
Constituency #1 St Georges North: Kenneth Bascome [OBA] Renee Ming [PLP]
Constituency #2 George's West: Nandi Outerbridge [OBA] Kim Swan [PLP]
Constituency #4 St George's South: Suzann Roberts Holshouser [OBA] Tinee Furbert [PLP]
Constituency #5 Hamilton East: Peter Barrett [OBA]
Constituency #6 Hamilton West: Simone Barton [OBA]
Constituency #7 Hamilton South: Sylvan Richards [OBA] Anthony Richardson [PLP]
Constituency #8 Smith's South: Rose Ann Tucker [PLP]
Constituency #10 Smith's North: Rev Dr Ernest Peets [PLP]
Constituency #14 Devonshire North West: Wayne Caines [PLP]
Constituency #17 Pembroke Central: Andrew Simons [OBA]
Constituency #18 Pembroke West Central: Nicholas Kempe [OBA]
Constituency #19 Pembroke West: Jeanne Atherden [OBA]
Constituency #20 Pembroke South West: Susan Jackson [OBA]
Constituency #24 Warwick South East: Nalton Brangman [OBA]
Constituency #25 Warwick North East: Jeff Baron [OBA]
Constituency #26 Warwick South Central: Robyn Swan [OBA]
Constituency #27 Warwick North Central: Sheila Gomez [OBA]
Constituency #28 Warwick West: Jeff Sousa [OBA]

Read More About