Troops from the Royal Bermuda Regiment and officers from the Marine Police are playing a vital role in maritime security at the America's Cup.
Soldiers from Boat Troop, many of them special constables, have joined forces with the Bermuda Police Service's Marine Unit to patrol the race course and maintain harbour security.
Lance Corporal Raymond Brangman and Private Mike Armstrong teamed up with PC Dominique Simons on the police boat Rescue 1.
L/Cpl Brangman, 28, who works for Marine & Ports on the ferry service, said: "I'm enjoying it – it's a different experience. I've met a few new police officers and I enjoy working with them."
Pte Mike Armstrong and L/Cpl Raymond Brangman on duty at Dockyard on the police boat Rescue 1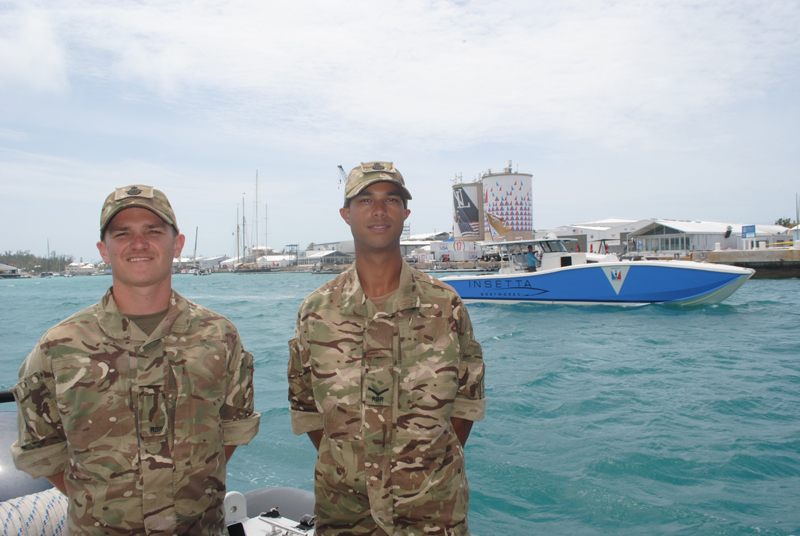 Pte Armstrong, 24, a bar tender, added: "Our role is crucial – if we weren't doing this, there would be problems. There are so many boats out here, you need someone to keep order."
PC Simons said: "They're definitely putting in the same amount of work and it's great to have people to help us out. And, as far as being professional, they're on point."
Captain Chris Gauntlett, Officer Commanding in Support Company, is playing a major role as Harbour Entrance Control Manager.
Capt. Gauntlett, who owns Blue Water Divers and has a pilot's licence, said: "We're running all the Regiment boats constantly during daylight hours maintaining the integrity of the entrance to Dockyard, particularly with regard to traffic and the race yachts, which have priority. It's because of my civilian background I was able to do this job."
Pte Mike Armstrong, PC Dominique Simons and L/Cpl Raymond Brangman on Rescue 1 as the RBR and the Bermuda Police Marine Unit team up to protect Dockyard and the America's Cup racecourse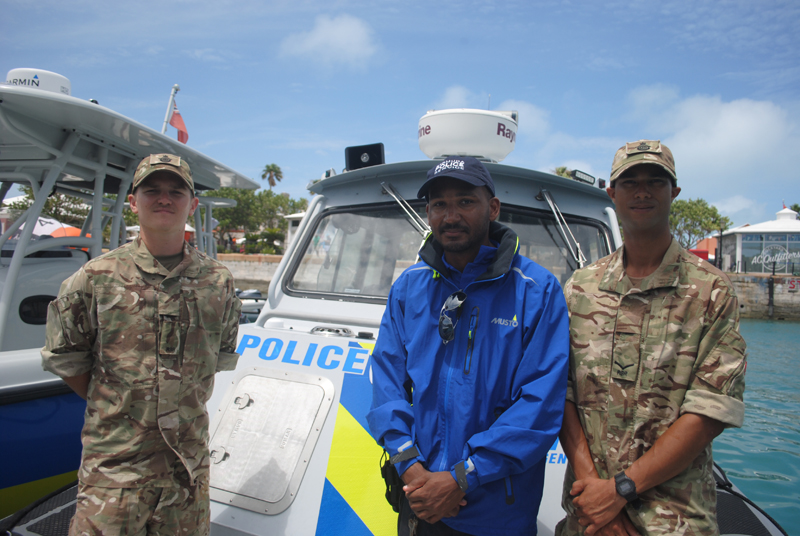 Inspector Robert Cardwell, the on-water Bronze Operational Commander at the Joint Agency Command Centre near Dockyard, added: "The relationship between the police and RBR on the water has been both seamless and impressive."
Insp. Cardwell said the police and soldiers had been working together for five weeks on joint operations on the water and RBR personnel with special constable status had issued summonses for marine offences.
He added: "The RBR has settled in nicely and are keen to learn as much as possible as quickly as possible.
"This has worked out well and we're now positioned whereby some soldiers are able to take command of their own police boat.
"Others have been learning how to operate the BPS flagship Guardian, taking over the controls under supervision in open waters."

Read More About