[Updated] The Bermuda Union of Teacher [BUT] is holding an "Emergency Membership Meeting" this morning [June 21] at the St. Paul A.M.E. Centennial Hall, with members urged to attend, with the poster saying "your input is vital."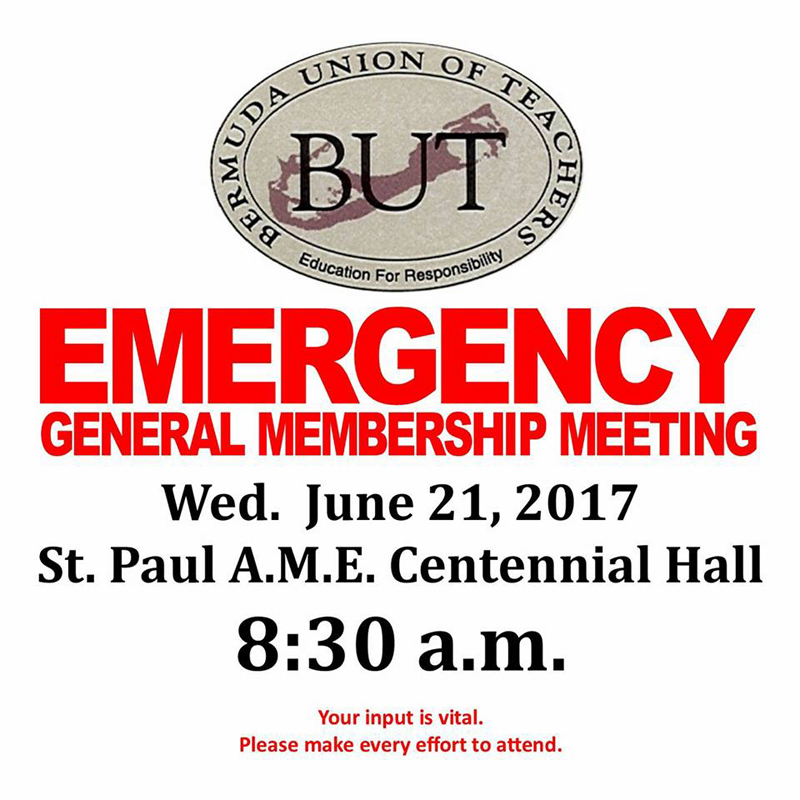 Update 12.41pm: Don Burgess reports
The Bermuda Union of Teachers voted unanimously for 'action' this morning saying Government backpedaled on three issues previously agreed to. As education is not deemed an essential service, the Union does not have to give a 21-day strike notice so it can come at any point the BUT decides. The BUT also voted by a simple majority to 'work to rule.'
Around 300 teachers filled St. Paul AME's Centennial Hall this morning for a meeting that started at 8:30.
BUT president Shannon James said there were three issues agreed to by the Union and the Ministry of Education at a March 21 meeting, but since then, the BUT have received a letter from the Ministry saying those issues are still on the table.
He said: "When you negotiate and you come to the table, the basic premise is your word is your bond. You're negotiating in good faith so when you leave the table, the things you have agreed on, you know you have agreed to those things. For the ministry to come out and roll back on that agreement is an insult to the process…and a direct insult to us who have been active participants at the table."
One of the three issues involves scale posts. That is where a teacher has extra responsibilities where they might be the science or language arts coordinator to ensure that the science or language arts objectives are being pushed.
Mr. James said "They are supposed to give support to other teachers, but for the past two years the Ministry has approached us to some amendments to the scale posts and we've had to say no because there was no proper discussion on it so we've had to roll over it for two years on a three-year contract."
He said in order to solve the issue, there was a two-day session "at Workforce Development and we hashed it out on March 21st."
A second issue involves the teaching deputy principals at the primary schools.
"It's hard for them to be a full-time teacher and to be a deputy principal at the same time," Mr. James said. "The deputy primary school principals have a very full plate in teaching and being a deputy. If the principal is out, the deputy still has to teach and fill in for the principal."
He said an agreement was reached it was best for the system and best for Bermuda's students on non-teaching deputies at the primary school level.
He said a message from the Ministry said: "it should be reviewed, it is their position not to discuss staffing levels."
The third issue BUT said was agreed to was that the words 'modern and relevant' would be added to the Preamble of the collective bargaining agreement.
A letter from the Ministry stated "that the inclusion of modern and relevant in the Preamble is unacceptable" but is willing to consider alternative language.
Mr. James asked "How can they say 'no'? They don't want children to have modern and relevant education? We're not satisfied with no. At least give us a reason why it is no or give us some different language."
Mr. James said that could include issues as WiFi in the classrooms, but could also include working computers, 3D printers and coding and everything we need to take our children to this next unchartered territory.
The teachers will be working to rule which basically means they will not be performing any duties outside of their written contract which may include field trips, lunch duties, prizegivings or bus duties if it involves working past their 3pm or 3:30pm knock off times.
Update 4.19pm: A PLP spokesperson said, "The Progressive Labour Party is disappointed to hear that the failed OBA government is playing politics with our teachers. The news that the OBA walked back on their commitments to our teachers is beyond the pale.
"Our teachers need support, not broken promises. Our teachers need services that will help them better educate our students including resources, but, also specialized training and certification opportunities and resources to advance their careers and better serve our students.
"The OBA has forgotten our public schools. Their deep cuts to the public education budget has resulted in teachers being mistreated, but, also mould and vermin in our schools. Bermuda can do better than an OBA government that plays musical chairs with the Education Minister, breaks promises to our teachers and cuts financial aid for our students seeking higher education."
The 2017 Education Agenda follow below [PDF here]:

Read More About