The Bermuda Economic Development Corporation [BEDC] will host the Is Your Business' Future Secure Seminar to help entrepreneurs decide the best structure for their businesses. The seminar will be held at the Cathedral Hall on Tuesday, July 25th, 2017 from 8:30am – 11:30am.
"It is no secret that starting your own business comes with its fair share of decisions to make, alternatives to select, and plans to determine. Many issues are involved in this planning and decision-making process. But ultimately you want to position your business for success from the get-go with knowledge and resources to form the best business foundation," the BEDC said.
"Questions often arise during this formation process such as "What legal form, or structure, should my business take?", "How do I protect my business' products, brand, ideas, and identity?" and "What is the process for protecting me and my clients' personal and confidential data?"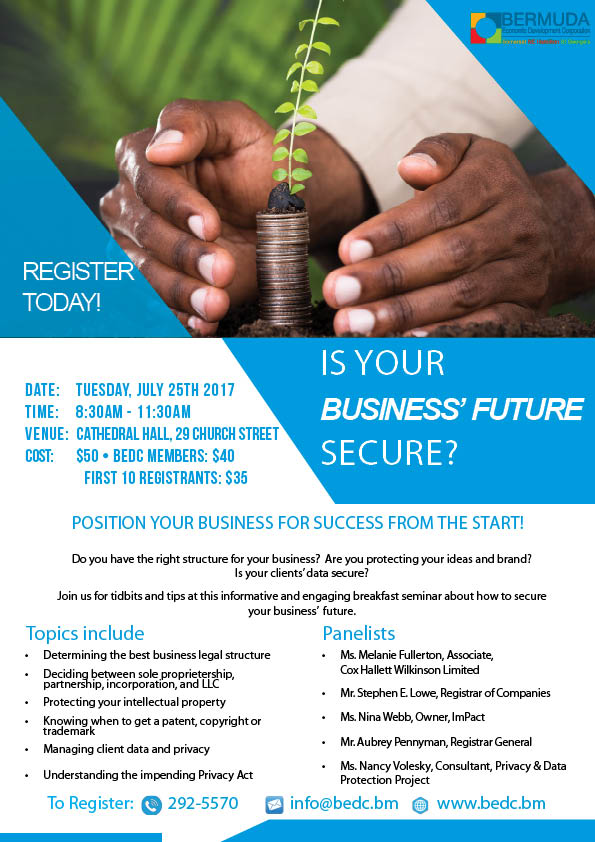 "These questions and more will be answered at this engaging seminar, designed to educate, inform, and offer resources to Bermuda's Small and Medium-sized Enterprises [SMEs].
"Detailed presentations will be given by guest experts in the fields of law, intellectual property, data, and privacy including: Ms. Melanie Fullerton, Associate, Cox Hallett Wilkinson Limited; Mr. Stephen E. Lowe, Registrar of Companies; Ms. Nina Webb, Owner, ImPact; Mr. Aubrey Pennyman, Registrar General; and Ms. Nancy Volesky, Consultant, Privacy & Data Protection Project, Bermuda Government
BEDC Executive Director, Erica Smith stated: "In recent times we have seen changes to policy and legislation that can impact our local entrepreneurs. It is BEDC's mandate to support local businesses by ensuring that they are made aware of these changes and by providing a means for them to obtain the support they may need to implement them in order to continue to operate and manage their businesses successfully. We are excited about being able to facilitate this seminar which truly speaks to the foundational basics of any business."
To register for this seminar, please call 292-5570, email info@bedc.bm or log on to www.bedc.bm. Registration is $50 for the general public and $40 for BEDC registered members. Your fee will include a light breakfast and materials.
Read More About