Bermuda Hospitals Board today [Sept 22] announced that, with the support of a Bermuda Hospitals Charitable Trust donation, it will be investing $350,000 in scholarships, and staff development and training in this fiscal year. In total, ten scholarships have been awarded.
New for this year is a fund for MWI Psychiatric Nurse Development, along with a new annual Bermuda College nursing scholarship, named in memory of Dashunte Furbert.
Ms Furbert was a BHB employee who worked in the Chief of Staff Office while training at the Bermuda College in nursing. She passed away last year just as she was taking on her first nursing post.
Left to right: Damon Bean and Betty Furbert [Dashunte Furbert's parents], Lisa Sheppard [BHCT Executive Director], Jonathan Brewin [BHCT Chairman], Asha Caisey and Azhanae Oliver [first recipients of the new Dashunte Furbert Nursing Scholarship], Scott Pearman, COO BHB, Angela Fraser-Pitcher, VP HR, BHB, Kendra-Lee Pearman, Senior HR Advisor, and Irmgard Ong-Aban, Advisor, Talent Solutions and Coordinator of the BHB Scholarship Programme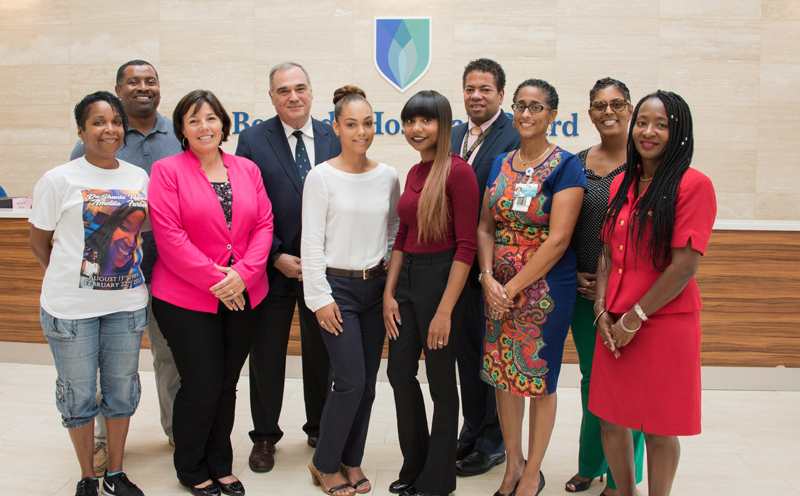 Scott Pearman, Chief Operation Officer, comments: "I would like to thank the BHCT for its generous donation to support our award programmes for students, and our training development opportunities for the employees of BHB.
"Encouraging Bermudians into healthcare, and ensuring our staff get the training and development needed to maintain high quality services and move into leadership positions is vital for the long term stability of healthcare services in Bermuda.
"As we face financially challenging times, especially this year with our budget reduction, BHB is very grateful to the BHCT and its donors for their desire to make a difference and support this education and training programme."
Jonathan Brewin, Chairman of the BHCT, comments: "BHCT's role is to raise funds to support a high quality service at BHB. A number of donors had told us they wanted their donations used for education and training as it has a long term benefit to the healthcare services provided at BHB.
"I am therefore very pleased to see this money used to encourage the next generation of healthcare workers, and train and develop BHB staff. As the fundraising arm for BHB, we are very grateful to our donors and pleased that we can direct funds to where they are needed most to improve the healthcare services provided to Bermuda by BHB."
Members Dashunte Furbert's family with the first two recipients of the Dashunte Furbert Nursing Scholarship: Asha Caisey and Azhanae Oliver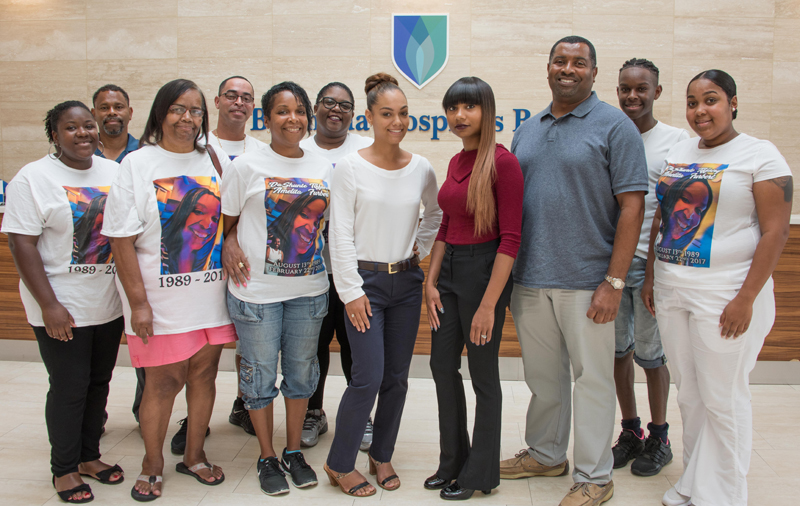 Angela Fraser-Pitcher, Vice President of Human Resources, comments: "Our general scholarships are open to anyone in the healthcare field, but this year we have a special focus on encouraging Bermudians into the nursing pathway at the Bermuda College.
"All of us at BHB are very pleased to establish an annual scholarship in memory of Dashunte. She was very much loved and respected by all her colleagues.
"While she did not live long enough to take up her nursing position after qualifying, through this scholarship her legacy will live on, offering financial support to encourage future Bermudian nurses. Thank you to the BHCT and the donors for their support."
2017 BHB Scholarship Recipients:
1. Seta Douglas – $10,000 over 2 years – Nursing Degree – St. Francis Xavier University – Antigonish, Nova Scotia – Canada
2. Lalique Simmons – $10,000 over 2 years – Nursing Degree – Oakwood University, Huntsville Alabama, USA
3. Dymond DeSilva – $10,000 over 2 years – Nursing Degree – Ryerson University – Toronto, Canada
4. Ez-Zarhá Shakir – $10,000 over 1 year – Nursing Degree – The University of Nottingham, Nottinghamshire, UK
5. Asha Caisey – $5,500 over 1 year – Nursing Degree – New Nursing Scholarship in Memory of Dashunte Furbert – Bermuda College –Paget, Bermuda
6. Azhanaé Oliver – $5,500 over 1 year – Nursing Degree – New Nursing Scholarship in Memory of Dashunte Furbert – Bermuda College – Paget, Bermuda
7. Lynnique Castle – $10,000 over 3 years – Master's of Pharmacy Degree – GlaxoSmithKline Recipient 2017 – Durham University – Durham – North England
8. Tenneil Ratteray – $10,000 – 3 years – Doctorate Degree, Physical Therapy – Andrews University, Berrien Springs, MI
9. Adriene Berkeley – $5,000 – 1 year – Ph.D. – Counselling Psychology – City, University of London, London, UK
10. Allanna Bean – $10,000 – 4 years – Ph.D. – Clinical Psychology – Arizona School of Professional Psychology at Argosy University, Phoenix – Arizona, USA

Read More About