[Updated] Hurricane Jose is a "potential threat to Bermuda", the Bermuda Weather Service said, with its closest point of approach to Bermuda within 72 hrs forecast to be 378 nm to the south at 3am on Wednesday [Sept 13], with the BWS noting that "this system may move closer to Bermuda after this time period.
Graphic courtesy of the BWS: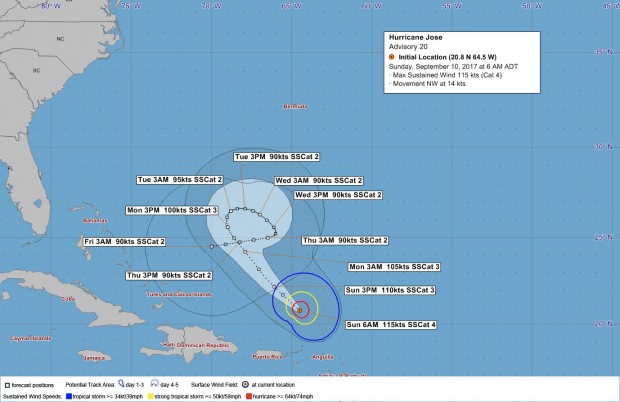 The latest forecast from the U.S. National Hurricane Center said, "Jose is moving toward the northwest near 16 mph [26 km/h] and this general motion is expected to continue over the next 24 hours.
"A slower forward motion is expected later Monday into Tuesday as Jose begins to make a turn toward the north.
"Maximum sustained winds are near 130 mph [215 km/h] with higher gusts. Jose is a category 4 hurricane on the Saffir-Simpson Hurricane Wind Scale. Gradual weakening is forecast during the next couple of days.
"Hurricane-force winds extend outward up to 40 miles [65 km] from the center and tropical-storm-force winds extend outward up to 160 miles [260 km]."
Graphic courtesy of the NHC: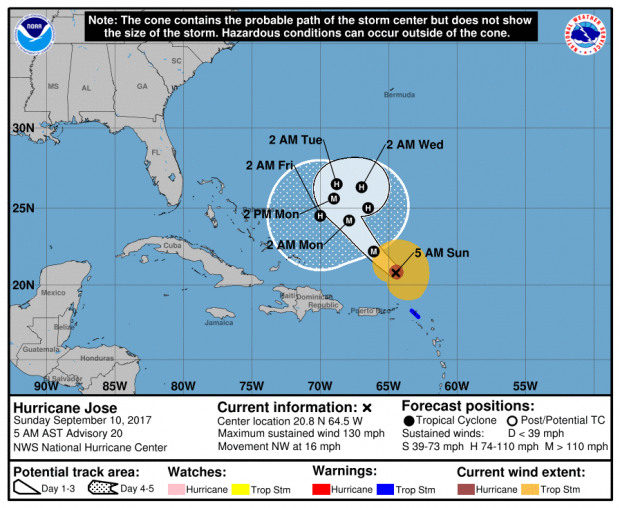 Update 12.47pm: In their latest forecast, at 12 noon, the BWS said that Hurricane Jose is "not a threat to Bermuda at this time," and its closest point of approach to Bermuda within 72 hrs is forecast to be 411 nm to the SSW at 9am on Tuesday, September 12, with the BWS adding "this system may move closer to Bermuda after this time period."
Update 6.19pm: In their 6pm forecast, the BWS again states that Hurricane Jose is a "potential threat to Bermuda", with its closest point of approach to Bermuda within 72 hrs forecast to be 378 nm to the SSW at 3pm on Tues, Sept 12, with the BWS noting "this system may move closer to Bermuda after this time period."

Read More About