[Written by Don Burgess]
National Squad player Ebonie Cox scored 13 points to lead the Gombey Warriors to a 16 – 14 come from behind victory over the 9-Parish Ballers in the Bermuda Netball Association's Celebrity match at Bermuda College.
In a game filled with laughs, it was Cox whose star shined the brightest. DJ Nikai Albouy – aka Twin Star – added three points in the winning effort.
Live video replay of part of the Celebrity Exhibition Netball Match
The Ballers were led by National Squad player Jahtuere Trott's 10 points. Former national Squad player Debbie Deshields still showed she had her touch with three points while OBA Senator Nandi Outerbridge had one point.
Both Cup Match captains, St. George's Macai Simmons and Somerset's Jordan Desilva, played in the game.
BPSU President Senator Jason Hayward being guarded by pro boxer Nikki Bascome: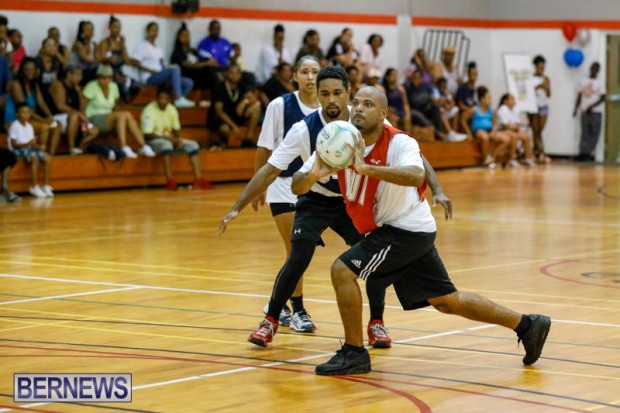 Desilva told Bernews was playing in his first netball game and said cricket was easier to play "because netball is a lot of running up and down the court."
"They had me at center which is a lot of ground to cover, but I enjoyed it. It was a lot of fun."
PLP MP Renee Ming was involved in one of the more hilarious incidents of the night.
"I know my contribution is small, but I'm just happy to be here. I am hoping that what they wanted to get out of this as a fundraiser, they achieved it," she said.
She said the funniest moment of the game was "Earl Basden almost falling on top of me."
Senator Nick Kempe springs to defence: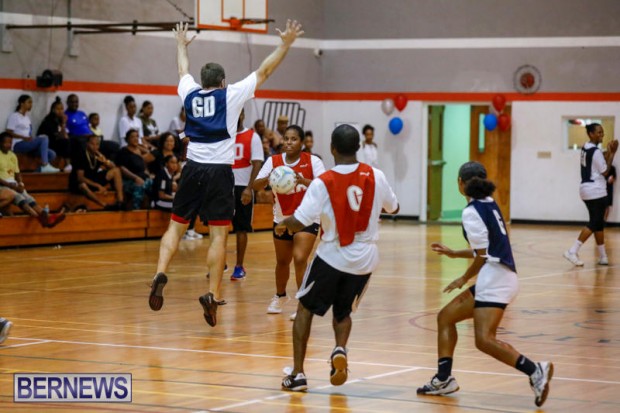 Patrina "Powergirl" Paynter said her funniest moment was "watching Ed Christopher block everybody. That's making me happy. He's not a netball player but he's so tall, people can't get across him.
She laughed, "It's a lot of fun, but I need some Bengay, a bath, and a massage."
Slideshow of the match
-
Christopher said with all the older players on the court "We missed our chance to invest in Bengay if we knew all these guys were going to play. They are going to be sore tomorrow. "
One of the funnier moments involved Bermuda Football Association president Mark Wade dribbling the netball after he couldn't get to it with his hands.
After the game the MVP was announced as professional boxer Nikki Bascome, while Most Improved went to Senator Nick Kempe, and Most Entertaining was awarded to Hamilton Town Crier Ed Christopher.
The team announced for the 9-Parish Ballers included:
1. Bakari Smith
2. Debbie [Sunshine] Deshields
3. Debre Evans
4. Earl Basden
5. Garon Wilkinson
6. Jah Simmons
7. Jahtuere Trott
8. Jason Darrell
9. Senator Jason Hayward
10. Jordan Desilva
11. Kyle Lightbourne
12. Lionel Cann
13. Mark Wade
14. Senator Nandi Outerbridge
15. Nikita Robinson
16. Opposition Leader Patricia Gordon-Pamplin
Coach: Marissa Brangman
The team announced for the Gombey Warriors included
1. Anthony Mouchette
2. Senator Crystal Caesar
3. Dominique Mayho
4. Ed Christopher
5. Jamela Daniels aka DJ JaDa
6. Macai Simmons
7. Nikai Albouy
8. Nikki Bascome
9. Ninja Cutty
10. Patrina Paynter
11. Senator Nick Kempe
12. Akeyla Furbert
13. Ebonie Cox
14. MP Renee Ming
15. Steven Douglas
Coach: Jeanann Hardtman
Click to enlarge photos:


Read More About